After an incredible five-goal thriller between Southampton and Liverpool at St Mary's, the Saints came out on top scoring twice in the final eight minutes to earn a vital three points.
The loss for Liverpool came after being two goals to the good at half-time after Philippe Coutinho and Daniel Sturridge had put the Reds into a commanding lead.
Subs crucial to final outcome
Talking in his post-match interview, it was clear to see that Ronald Koeman was delighted by the way in which his two half-time subs played in the second half to help his side to a much-needed win.
Stating that his team "needed more physicality" due to their lack of "winning second balls", the boss also felt that the rest of the team were boosted by the introduction of Sadio Mane and Victor Wanyama at the break, a key factor in his side's eventual victory
Nevertheless, the passionate Dutchman did however state that it was the front three of Shane Long, Mane and Graziano Pelle who "worked fantastic" against the Merseyside club, displaying that he was delighted to see two players who have had difficult times in recent months make a real difference to the final outcome in the game.
This win just goes to show the character and togetherness which the teams has in the ranks and the never-say-die attitude which has been instilled under Koeman.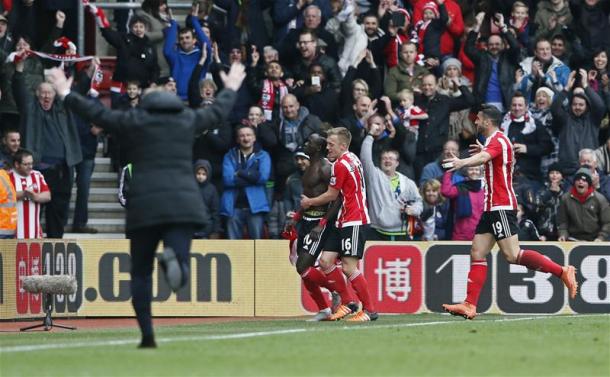 The manager was also pleased with Mane's reaction after missing a penalty early on in the second half, suggesting that the player showed "great belief in himself". Koeman will be pleased to have Mane back in the goals as that was his first in the league since the reverse fixture against Liverpool all the way back in October, when he also scored a late goal.
Mane never stopped believing
As a matter of fact, there also appears to be a similar opinion in the dressing room. Talking after the game, match-winner Mane stated that "it was great for me" as he notched his eighth and ninth goals of the season in the win.
"The team wins and I am happy for that," he continued, with Southampton now looking ahead as they look to once again break into the Europa League places ahead of Chelsea, Stoke City and Liverpool.
Mane also stated that he "always believed", despite seeing his spot-kick saved just minutes after coming on in the second half and it's clear to see that Mane felt it was a real team effort and everyone deserved the win.
The Senegal international insisted that "the whole team worked hard" throughout, and if the side can keep up reecent performances then there is no reason why they can't go onto reach the Europa League places once more. After a difficult start to the season, Mane is determined to make this happen.