As England prepare to host the Netherlands at Wembley on Tuesday night, Southampton and England 'keeper Fraser Forster has praised fellow teammate and Dutch defender Virgil van Dijk for has quick adaptation to the Premier League.
"He's got great attributes – he's big, strong and very quick," Forster told Southampton's official website.
The Saints number one continued by addressing van Dijk's fantastic ability on the ball, whilst describing him as "a great signing" for Southampton.
The ex-Celtic men spent two years together at the Scottish giants and Forster highlighted their connection on the field, saying: "I can't speak highly enough of Virgil. I think we've got a great understanding as a goalkeeper and defender."
Connection and quality
Although the defender and 'keeper will be at opposite ends of the field on Tuesday, Forster reckons he knows what the Dutchman will do at any given time.
"I almost know what Virgil is going to do before he gets the ball and does it himself, and that works the other way round as well."
Southampton's push for a European place next season has been heavily influenced by the talented pair, who have been able to solidify Ronald Koeman's defensive line.
Forster also believes van Dijk has shown everyone has qualities since joining him on the south coast, adding: "He's shown the Premier League what he is all about, and has settled in so quickly."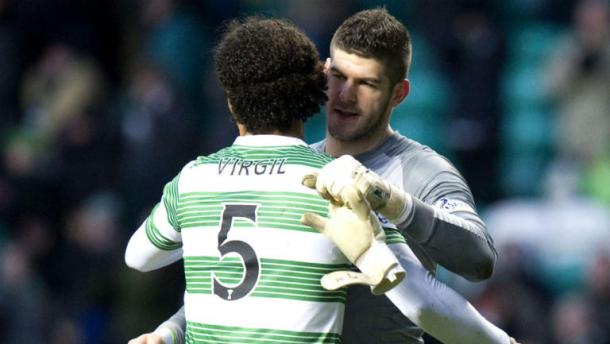 Contrasting fortunes
England and the Netherlands will both be playing their final games of the international break when they meet. Van Dijk played 45 minutes on Friday in his country's 3-2 loss against France, whilst Forster played 47 minutes in England's 3-2 win over Germany following the injury to Jack Butland.
Van Dijk and the Netherlands have failed to qualify for this summer's European Championships; a shock contrast to their semi-final achievement at the 2014 FIFA World Cup.
The Three Lions, however, cruised through their qualifying group with 10 wins out of 10 and have lost just once - against Spain - since that 2014 tournament.