Jose Fonte felt that Southampton needed to show "more composure" in the final third, as they were downed 1-0 by league leaders Leicester City on Sunday.
The Saints captain, speaking after the game at the King Power Stadium, declared: "I think we needed to have more composure, more calmness and we would have created more chances and scored."
The defender was disappointed not to have made the most of a number of good chances, as Wes Morgan's header won the game for the hosts to move them seven points clear at the top of the Premier League.
Fonte, who also could have got on the scoresheet himself after a long range effort went just narrowly wide said: "They defended with everything they had and we didn't break them down."
Saints also had a penalty shout when Sadio Mane rounded the goalkeeper and his shot seemed to be blocked by the hand of Danny Simpson, with Fonte weighing in that the decision "didn't go our way" and was "decisive" in the game because "they [Leicester] had momentum" and "had one chance in the first-half that they scored."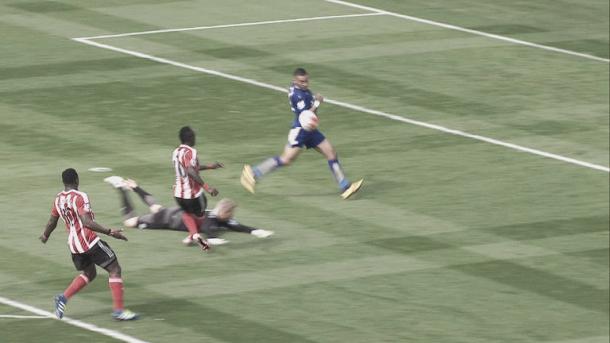 We should have won the game, insists Fonte
Another penalty shout came and went away, along with a few chances but Saints couldn't find that needed goal, and Fonte believes he and his teammates deserved more.
He added that "when you don't have these kinds of decisions go your way, you run the risk of what happened with the Morgan goal" before saying that he felt Southampton "were the better team and we should have won the game."
As Saints pressed to find an equaliser, Leicester pressed and forced Fraser Forster into producing some eexcellent stops, one particular after a clearaning header from Fonte which nearly looped in underneath the crossbar.
Fonte continued: "Well done to Fraser. I tried to intercept but luckily Fraser was in a good position to save."
Fonte and his side take on Rafael Benitez's seemingly-doomed Newcastle United side next week and hope to return to winning ways as they seek to take a step closer to potential Europa League qualification.