That's it from me here today though, after a thoroughly enjoyable game of football. I've been Sam France, and this has been a pleasure. Have a great end to your weekend.
For now, attention switches to London as Chelsea host Tottenham Hotspur on Monday night with Spurs needing to win to keep the title race alive.
Well, I did tell you it was going to be a good game. The Saints are up to seventh as they move past Liverpool, while City remain three points behind Arsenal in third - they host the Gunners at the Etihad next Sunday.
Full-time: That's it! Five wins from eight for Southampton as they keep their European hopes alive, but Manchester City will have to bounce back ahead of their Champions League semi-final next week.
90+4' Nasri's pass over the top almost comes to Zabaleta of all players, but the right-back can't get a touch on the ball and it bounces into the hands of Forster, who is happy to have something to do.
90+2' Kolarov's unconvincing-looking cross from the left is dinked straight to the feet of a Saints defender. They aren't exactly throwing the kitchen sink at Southampton here.
90+1' Four minutes added on here. Time for Iheanacho to get a well-deserved third, or have we seen the end of the action here today?
90' Bony wins a free kick some 35 yards out after being dragged down by Wanyama. Nasri delivers and there are a couple of City headers on, but nothing dangerous and the ball is cleared by Bertrand.
87' Southampton sub: Jay Rodriguez gets a warm reception as Dusan Tadic is applauded off.
86' Handbags! Nasri dithers on the ball and just gets out of danger, but reacts with frustration as Martina fouls Sterling. A push on the back doesn't develop into anything more.
84' Ward-Prowse has to shoot from range with little on and his effort deflects off a defender and loops up into the arms of Hart with Long putting pressure on once again.
83' Sterling - who has been little more than a training cone for Southampton's players to run around for much of this game - has a chance as he breaks down the left, but he is tackled well as he shoots from a tight angle. He might have been better off trying to cut back and find one of his teammates in the middle.
81' A breakdown in communications between Ward-Prowse and Tadic sees a Southampton attack down the right come to nothing. City are trying to claw their way back in, but Iheanacho is the only player who looks like making something happen. Is it worth risking Aguero at this stage?
78' Iheanacho gets the ball inside the area, cuts onto his left foot and curls an exquisite shot over Forster and into the far top corner. Stunning - and another hat-trick is now on the cards in this one.
78' GOAL! It's a stunning strike from Iheanacho, met by almost total silence.
78' James Ward-Prowse delivers a free kick into the area but sees it headed away, which is strange as I hadn't realised he was on the pitch - he came on in the 74th minute, while I was researching my fun fact. Apologies.
76' The ball comes to Navas inside the area and he sums up City's game by panicking and sending a rushed shot high, high over the bar - that's out of the stadium and into the sea.
75' With this game surely dead and buried now, time for a fun fact. Sadio Mane is the first man to score a hat-trick in the league against Manchester City since 2008, when Afonso Alves and Gabby Agbonlahor both managed the trick.
74' Iheanacho is second-best against Van Dijk as he has been for much of this game, and the ball is hacked away from his feet before he can turn and shoot inside the area.
71' Southampton are showing no signs of letting up, which is a problem for City as their performance is looking like the embodiment of a lazy Sunday afternoon. Mane is almost through again but he can't quite catch up to a side-rule ball down the left.
68' Van Dijk is in the thick of things again as he tackles Iheanacho to launch an attack which sees Mane released through 0n goal to the right of centre, and he keeps his composure to slide the ball under Hart and just inside the near post. That's his second hat-trick for the club.
68' GOAL! He can't stop that one! Mane gets his third!
67' Almost a stunner! Fonte flicks the ball on from the corner and Van Dijk arches back to fire an overhead kick toward goal which is tipped over well by Hart. The resulting corner is eventually tidied up by Hart with Van Dijk lurking with intent again.
67' Mane is looking for his hat-trick, but Kolarov leaps above him to cut out a ball over the top and put it behind for a corner. Same again?
65' Romeu makes his first real impact, getting across well to cut out a Demichelis pass and halt a potential attack.
64' Manchester City sub: Jesus Navas comes on for Fabian Delph.
63' After all their huffing and puffing at the start of the second half, City look demoralised after Mane came in at the back post to kick the house down. Jesus Navas is coming on to try and liven things up.
61' Probably not the attacking change City fans were hoping for, and their mood won't have been helped at all by that free kick from Kolarov. He has the chance to deliver from deep on the left, but his ball goes over everybody and behind for a goal kick.
60' Manchester City sub: Martin Demichelis replaces Fernandinho.
59' Southampton sub: Oriol Romeu comes on to replace Jordy Clasie.
57' Van Dijk forces a stunning save from Hart as the England goalkeeper tips his powerful header onto the crossbar, but Mane is quickest to react amidst a melee of players inside the six-yard box and he slams in his second of the game.
57' GOAL! There's a goalmouth scramble and Mane turns it home!
56' Bertrand wins a corner on the left as his low cross is turned behind by the sliding Otamendi. Davis to deliver.
54' Tadic is the second Southampton player into the referee's book as he sees yellow for hauling down Zabaleta, who was looking to break through on goal. City are on top, now.
53' A City attack looks to break down but Bony wins the ball back and the visitors momentarily look to have a chance, but they're outnumbered and the ball is launched away. Mane is halted on the counter-attack.
50' The first shot of the second half comes from City after some excellent work from Iheanacho. He plays a one-two with Bony to help his barrelling run through before digging a shot at goal while being challenged by Van Dijk, but it's a reasonably simple low save for Forster.
49' Southampton have started the second half the better, but no chances of note so far. City still yet to show their hand.
47' Aguero is warming up on the touchline as the half ticks into life. Surely it's just a matter of when he comes on, rather than if.
46' We're underway in the second half - will City improve, or are Southampton going to run away with it?
Manchester City should be nowhere near Southampton in this one, but Iheanacho's header means they only need a goal to get themselves back into the game. Luckily for them, they have the best striker in the Premier League sitting on the bench...
Half-time: Or not! Andre Marriner blows for half-time before the corner can be taken, and it's 2-1 at the break.
45+2' Southampton are ending the half as they have spent much of it, on the front foot. They have a corner over on the right, which is likely to be the last kick of the half.
45' Two minutes added on at the end of the first half.
44' Nasri drills a low cross in from the right and Martina's attempt to clear bobbles up off his foot and back into the danger zone, where Iheanacho is totally free to set himself and plant a header out of reach to the right of Forster.
44' GOAL! City get a goal back against the run of play, Iheanacho heads home!
43' Lovely stuff between Tadic, Long and Davis at the edge of the area but their cute passing triangles just break down before they can pick a way through.
41' Whether through their own attacking verve or City's abject defensive display thus far, Southampton look like scoring every time they come forward. Tadic leads the charge this time, but he's closed down before he can find space to take a shot at goal.
38' Van Dijk gets his head on the ball as this corner is delivered straight into the area, but it goes behind for a goal kick. City almost become the architects of their own destruction once again as Long looks to sieze on another loose back-pass but Hart, presumably expecting it to be about five yards short on the evidence of his defence's passing so far, comes out to clear.
37' Southampton look to have wasted the chance with some fairly innocuous-looking short-corner dithering but the ball comes back in once again after a clever back-heeled pass and there's another corner.
36' Clasie goes for the spectacular as the ball is pulled back to him just inside the area. He attempts to dink the ball inside the far post but Fernandinho gets a touch to it and it goes behind for a corner.
35' Fernandinho's shot is marginally better at the other end by virtue of being on target, but his pea-roller from over on the left is comically weak. City don't look like they have two goals in them right now.
32' Southampton have a three-on-three attack with captain Davis on the ball. He opts to shoot from range but gets it horribly wrong and the ball slithers out off the outside of his boot. Not the finest moment of quality we've seen so far.
28' Long loses his marker on the left as Tadic breaks with the ball down the right. Tadic holds onto the ball and shapes to lift the ball over to the first goalscorer but opts instead to go inside to Mane who finishes with aplomb to double Saints' lead and give City a mountain to climb.
28' GOAL! Two goals in three minutes for Southampton, it's Sadio Mane!
28' Delph is the latest to gift Southampton an opportunity as he gives the ball to Tadic in the centre of the pitch, but his attempted pass forward to Long rolls through to Hart.
25' Martina loops a ball forward down the right and Tadic does well to keep it in, dinking the ball across goal and Long reacts fastest to turn it home at the far post. It's his goal rather than Otamendi's - his 100th in English football!
25' GOAL! It looks like an own goal, Southampton have the lead!
24' City's passing here has been dreadful at times, and Southampton almost profit once again as Tadic wins the ball just outside the area. The visitors have men back in numbers, however, and the chance comes to nothing.
23' Long's pass towards Mane in the area looks fairly harmless but Otamendi dithers and almost allows the latter to burst past and get a foot on the ball - Hart is alert once again to get down and smother the ball.
20' Good save from Forster there as Iheanacho got into the area and pulled the ball back for Sterling, but his attempt to turn the ball goalwards is thwarted by the Saints stopper. Fernandinho receives the first booking of the game for a foul on Clasie.
18' Southampton are cranking up the pressure now! Clasie feeds Long through on goal straight from the goal kick but the forward is closed down and has to take the shot early, firing low and hard from the edge of the area but into the side netting.
17' Close again! Bertrand feeds Tadic on the left once more and his first touch is to deliver a great low ball into the area which Mangala does well to force behind. Fonte wins the header from the resulting corner but his effort at goal drops harmlessly wide.
16' Tadic jinks right then left to beat Zabaleta over on the left before delivering a floated ball to the back post which Hart does well to claw away from danger. The hosts coming back into the game, now.
15' A real chance for Southampton here - Mane's first-time lobbed pass into the area is just too heavy for Long to touch but the forward chases Zabaleta down to win the ball back. He dithers too long on the ball, though, and the ball is knocked behind for a corner which is easily claimed in the air by Hart.
13' The delivery is better this time but it evades everyone once more, with Bony looking like being the closest to getting a touch on the ball.
12' The first corner of the game goes City's way over on the left, but the outswinging delivery swings some distance out of the area before another corner is won as the ball is delivered again.
11' Mane wins the ball again, intercepting Fernandinho's pass inside the City half this time, and he breaks to the edge of the area before skewing a mis-hit shot wide with options available around him. Poor from the Senegal international.
10' Both sides seem to be taking something of a breather after an end-to-end start to the game. As I type that, Mane wins the ball on the halfway line and tries to burst toward goal but he's stopped and the attack fizzles out.
8' The ball is won high up the pitch as Southampton attempt to get a foothold in the game, but the early pass towards Long is heavy and rolls harmlessly through to Hart.
7' Fernandinho looks to release Zabaleta down the right again. The Argentine is in acres of space but the pass is slightly too heavy and the danger is tidied up.
5' Bony works well in the centre of the pitch to win the ball back after a Wanyama challenge, before an attempted Southampton clearance bounces straight to the Ivorian at the edge of the area. He can't react quickly enough to bring the ball under control, though, and the chance goes begging.
3' City's first chance of the game comes from the right as Zabaleta delivers a decent-looking ball from the byline, but there's nobody at the back post to pounce on it and Southampton clear. This is shaping up to be a good game!
2' Almost a disastrous error from City there as Kolarov looks to clear the danger by touching the ball back to Hart, but his header almost loops straight to Long before the England keeper reacts well to come out and punch. Mane's low shot from the edge of the area is easily held by the Hart moments later.
1' Southampton do indeed get the match kicked off, with Van Dijk looking to charge forward right from the off as Bertrand's cross into the area is nodded away. A positive start from the hosts.
City have taken their positions on the pitch and Southampton are having their pre-match huddle. The Saints will get us underway.
The teams are on their way out now, and we're moments away from the start of the game. Whose European ambitions are going to get a shot in the arm here today?
Quarter of an hour to go until kick-off now. Don't go anywhere!
However, City have made five changes from their big win over Stoke and eight changes from the Madrid draw - could maintaining late-season momentum be an issue with that level of rotation?
One point of note today is Joe Hart making his 300th Premier League appearance - he was on great form against Real Madrid in midweek, and with Southampton likely to go for it today he might need to be just as good in this one.
The teams are warming up on the St Mary's pitch ahead of the game. Ronald Koeman has said ahead of the match that his team need at least two wins from their last three to keep the pressure on in the chase for Europe, but Liverpool's slip-up today means Jürgen Klopp's Reds are within reach for the time being.
Back to business on the South Coast, then. A bit of an anticlimax in Leicester's game today, so let's hope we can kick things up a notch here.
Leicester have been held to a draw at Old Trafford, so no title today. That means the big story of the day so far remains Swansea City scoring three goals in a game of football - read all about it, here.
Meanwhile in the other game going on right now, Leicester are still one goal away from the title with five minutes to play - can they clinch the three points they need today? Find out here.
Raheem Sterling's return to the starting eleven is a welcome boost for City if his fitness holds up, and with Iheanacho alongside him the visitors have searing pace in attack. Can the Saints weather the storm and get something out of this game?
So, no Pelle in sight for the home side and no De Bruyne, Kompany or Aguero for City, though both sides have options on the bench if things start going pear-shaped.
Manchester City subs: Caballero, Sagna, Clichy, Demichelis, Fernando, Navas, Aguero.
Manchester City XI: Hart, Zabaleta, Otamendi, Mangala, Kolarov, Delph, Fernandinho, Nasri, Sterling, Iheanacho, Bony.
Southampton subs: Stekelenburg, Yoshida, Cedric, Rodriguez, Romeu, Ward-Prowse, Austin.
Southampton XI: Forster, Clasie, Fonte, Long, Davis, Mane, Tadic, Wanyama, Martina, Van Dijk, Bertrand.
The teams are out! Starting elevens and subs, coming right your way...
Of course, this isn't our only live coverage of the day - we've also got minute-by-minute commentary of Manchester United's bid to stop Leicester City lifting the Premier League trophy, right here.
The former Real Madrid boss also took time to praise the work Koeman has done at Southampton in recent seasons, saying that "it's a merit to Ronald Koeman that [Southampton] are doing so well".
Manuel Pellegrini, meanwhile, told Manchester City's official site that "the best way to win [against Real Madrid] is to play well and win on Sunday [against Southampton]", with momentum an important factor for every team at this late stage of the season.
The Dutchman was also keen to stress that both sides still have plenty to play for with City looking to cement at very least a top-four finish, while he remains confident that European qualification is still within his players' grasp.
Koeman insisted that City have "twenty to twenty-five good international players", meaning that he will have to field a strong starting eleven whatever side his opposite number decides to put out.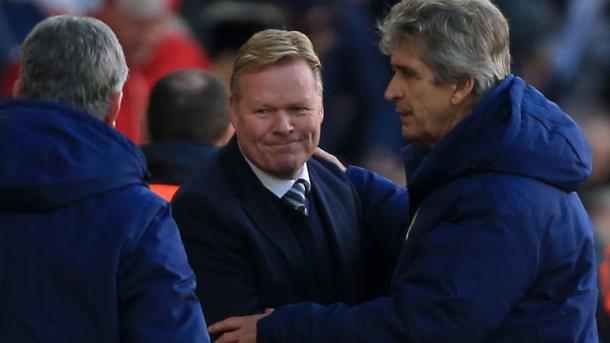 Speaking on Southampton's official YouTube channel ahead of the game, Saints boss Ronald Koeman has assured fans that his side won't be taking it easy on Manchester City just because of their Champions League semi-final this week.
In fact, while you're at it, you might as well have a look at the reports from this weekend's action in the top flight so far. Some important games this weekend, and you can relive them all here.
While we wait for concrete team news, why not have a look at our full preview of the game, here? Go on, you know you want to.
The return of Kevin de Bruyne has been a big plus for City in recent weeks, but Silva's three-week absence is sure to be felt despite the Spaniard not enjoying the best season of his time in England.
Two of City's big guns will be sitting out in the forms of David Silva and Yaya Toure, but Samir Nasri is available for selection with Pellegrini likely to rotate ahead of his side's upcoming trip to the Santiago Bernabeu.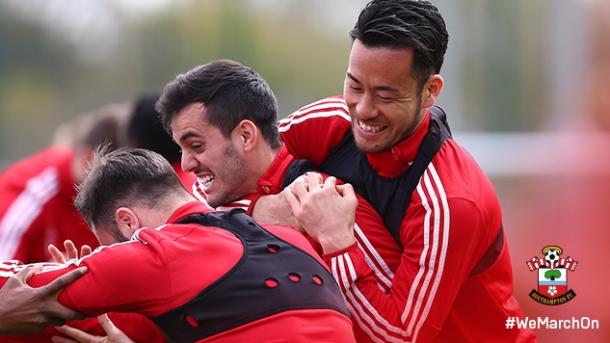 Most of the early team news for the Saints is centred around their front-line with Graziano Pelle likely to return to the starting eleven and Charlie Austin in with a chance of making a bench after his recent hamstring troubles.
Southampton's only win in that seven-game spell came in February 2013, with goals from Jason Puncheon and Steven Davis, plus a Gareth Barry own goal helping the Saints to a 3-1 win of their own. Edin Džeko scored City's goal on that day.
It's fair to say that, since their return to the top flight in 2012, the Saints haven't had much luck against City with just one win in seven and four defeats from the last four. Earlier this season, Kevin de Bruyne, Fabian Delph and Aleksandar Kolarov scored in a 3-1 win for Manuel Pellegrini's side, with Shane Long notching a consolation goal with a second-half header.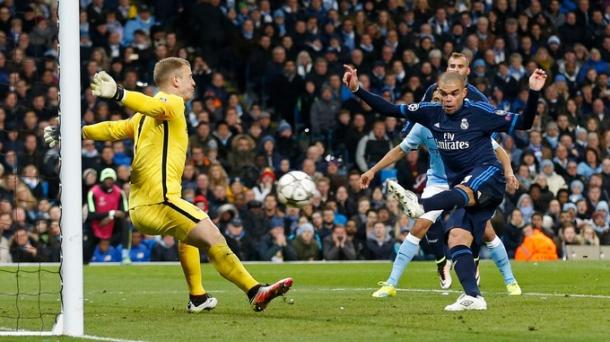 With all due respect to Villa, City's most recent opponents presented something more of a challenge as the visitors held Real Madrid to a goalless draw at the Etihad in midweek. Before that, convincing wins over Chelsea and Stoke City sandwiched a disappointing draw with relegation fighters Newcastle United.
Today's hosts are on a three-match unbeaten run after prevailing in a 4-2 thriller against basement boys Aston Villa last time out. That result kept their hopes of European football alive, but they need another win today to keep up the pressure on Manchester United and Liverpool ahead of them.
Kick-off is set for 4:30PM here at St Mary's this Sunday afternoon, and what better way to see out the weekend than with a match between two of the most entertaining sides in the league?
Good afternoon and welcome to our commentary of Southampton's clash with Manchester City in the Premier League. We'll have all of the pre-match news, blow-by-blow commentary and analysis as it happens right here on VAVEL UK, so don't go anywhere!