Jose Fonte has described Portugal's story of victory at Euro 21016 as like a script from a Hollywood blockbuster.
The Saints skipper helped his country to claim their first international honours in its history, as they edged out hosts France 1-0 in extra time of the final.
Ex-Premier League star Eder, of Swansea City, scored the goal that gave them the crown, but the solid performances from Fonte and fellow Saints team mate Cedric Soares were strongly noticed.
A-List performance
Fonte described the whole tournament as a "Hollywood movie" as the Portuguese side only won one game the whole tournament inside 90 minutes.
They finished third in the group stage below Iceland and Hungary but still qualified from the group, winning two games on penalties and one in extra time ahead of their only 90-minute win against Wales in the semi-final. Fonte says regarding the script that it was "incredible" and the Portugal side have finally "written our names in history."
It has been a remarkable story for the centre-back, as just five years ago he was lining up in League One to play away to Tranmere Rovers. His career has been turned totally upside down, something which "defies description," Fonte told the club's official website.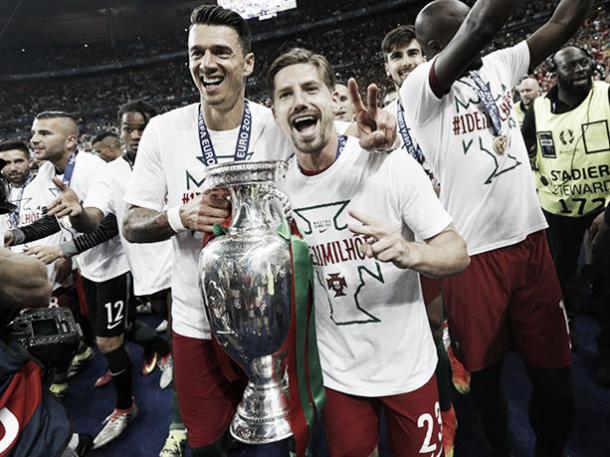 Man down
Portugal captain Cristiano Ronaldo, who some claim to be the best player in the world, was forced off injured in the opening stages and Fonte said that it was tough but they "believed to the end".
He also paid huge amounts of appreciation to the Portuguese fans, saying their belief gave the team the energy they needed after a long tournament and without them "it would not have been possible."
The hosts had many chances to take the crown but didn't take them and the Portuguese suffering was no longer said Fonte, He also said "they had opportunities" but "we are the winners" and said the whole tournament was an "unforgettable" experience.