This summer England travel to France in a bid to make it past the group stages of a major competition for the first time since Euro 2012. In aiming to do so they will have to hope that they are able to defend better than has been present in the two most recent friendlies.
Bearing this in mind, it seems staggering that Ryan Shawcross, Stoke City stalwart and club captain is unable to have a chance to prove himself, or even get a mention in an attempt to improve an England side that is extremely competent going forward, but susceptible defensively.
Disaster on debut
It appears that Shawcross' last England performance against Sweden in November 2012 still haunts the England set up and this is why he is unable to force his way into the team. That night, an Ibrahimović masterclass caught an England debutant cold. But surely, to judge a young man on debut against a mercurial and world class striker is unfair, even bordering on ridiculous. Experienced defenders have had their own problems against this man, let alone an inexperienced one that had yet to experience international football and who was only on the pitch for 16 minutes. Can he be solely to blame?
Shawcross has been a regular for Stoke over the previous eight years since he joined from Manchester United. In the years since, he has evolved to be Stoke's first name on the team sheet. Under Tony Pulis, Shawcross was the lynchpin upon which Pulis' tight, defensive football was based. Alongside Abdoulaye Faye and then Robert Huth, Shawcross was vital as Stoke became renowned for locking out games and providing a stable defence to help to cement Stoke as an established Premier League club. Under Pulis' regime, it was understandable why Shawcross wasn't given a chance. Stoke were extremely unfashionable and the cagey football, which often involved long balls, was not seen as a desirable platform to launch an international career.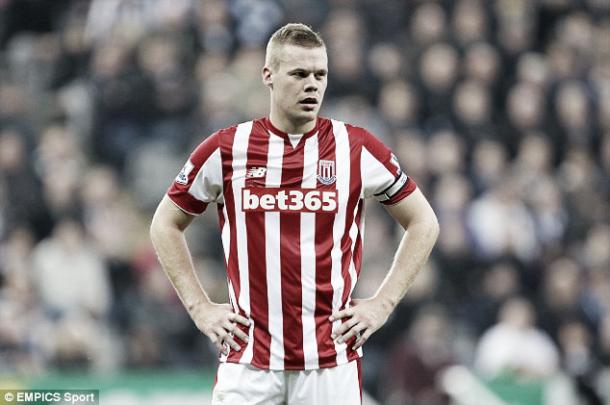 However, since Mark Hughes' appointment in 2013, Stoke's style of play has evolved dramatically. No longer are Stoke compared to rugby sides or associated with long balls that directly link defence with attack. This, in theory, should aid Shawcross' case to get back into the England fold where 'ball playing' centre backs appear to be highly desired.
Who are the competition?
On this note, John Stones, whose ability cannot be denied, has been picked for England. The tendency for bringing the ball out from defence does come with its drawbacks. Stones in particular has been criticised and has recently been dropped from Everton's starting line ups due to Roberto Martinez appearing to not trust the young Englishman.
The error strewn tendency of Stones is displayed by the defender having committed three defensive errors this season. This compares to Shawcross who has zero mistakes over the same period of time. Stones' susceptibility for over playing the ball culminated against Holland when Stones slipped in the build up to England conceding a goal. Some argue that Stones' slip was unlucky, but had he not attempted to be taking the ball past the attacker, the slip would not have happened. One thing is for sure, Shawcross would not be guilty of doing the same.
Gary Cahill, another option in central defence for England, has also proved to be error prone with two errors, but, with a very impressive average of 61% of duals won, appears to have a strong argument to be included in England's starting eleven in summer.
Chris Smalling too has a very convincing case to make having played 14 more times this season and by having an 82% pass accuracy compared with Shawcross' 73%. Phil Jagielka, Stones' counterpart, and another England regular, despite being 33 and susceptible to pace, also lacks behind Shawcross statistically. He has made two defensive errors and has a smaller percentage of average duals won of 56%, compared with the Stoke skipper's 58%. In addition to this, Jagielka has also had his own injury concerns this season.
The statistics therefore appear to speak for themselves. Shawcross only lags behind Cahill and Smalling in terms of centre backs in the England squad, yet cannot get a chance to prove himself. It appears strange that a player who is renowned as a leader on the pitch, who has been able to transform his style of play, and a player who has the statistics to back up his reputation is unable to force his way into a back line that leaks goals.
Injury woes for Ryan
Despite Shawcross displaying commendable skills, it would be wrong to omit the fact that Shawcross has been unfortunate to have suffered two injuries this season. Having endured a back problem towards the end of last season, Stoke didn't opt for Shawcross to have an operation to fix the injury and instead decided that rest would be best. This decision has backfired as it meant that Shawcross had to have an operation in August and subsequently didn't make his return until October.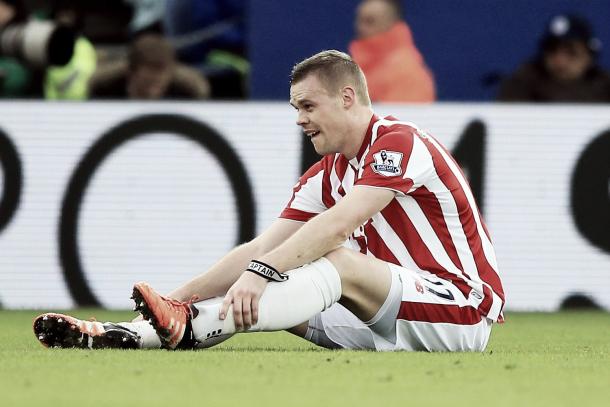 Since then, Shawcross has suffered another setback and has only just got himself back into contention after suffering another back injury during Stoke's defeat by Southampton. However, if Jack Wilshere, who has been injured since the day he was born, is able to have six games to prove himself for the Euros, then why isn't Shawcross when the national side is crying out for somebody of his ability.
Captain fantastic
When Shawcross has played for Stoke they have looked a much better side. His leadership and organisation skills are second to none. These traits enable him to marshal his defence and the improvement of Philipp Wollscheid this term can almost certainly be attributed to learning from Shawcross. His reading of the game is superb, as well as his strength and pace which mean he rarely gets caught out of position or beaten to the ball.
He is also a defender who has progressed under Hughes, constantly offering himself out wide to receive the ball from short goal kicks and linking up with Glenn Whelan and the midfield as Stoke build from the back. Here is evidence that Shawcross is familiar with bringing the ball out from defence which is desirable as England look to progress.
The argument for his inclusion is furthered when considering that with Shawcross in the side Stoke did not concede a goal for 542 minutes. Most notably, this included clean sheets against Chelsea, Manchester City, and Southampton, as well as Manchester United on Boxing Day. What this proves is that Shawcross is able to compete against the very best attackers every week in the Premier League and certainly relishes the challenge that world class attackers bring.
It is therefore hard to fathom that a defender who has suffered injuries this year (Jagielka) and also one that has been dropped from their club side for vulnerabilities (Stones) are able to play for the national side, whereas Shawcross is continually overlooked. One thing is for sure, if England are to have a chance of making it far in an international tournament then strength and depth in defence is vital, and 16 minutes shouldn't dictate who does or doesn't get to offer this.