On Sunday Stoke City travelled to Liverpool in search of their first victory at Anfield in the league for 59 years. Earlier in the season the Potters had successfully beaten Liverpool in the Capital One Cup semi-final, before eventually losing on penalties and would have, therefore, felt confident of doing the same again.
However, a much changed Liverpool, in light of their important second leg to Borussia Dortmund on Thursday, soundly beat the Potters. In failing to win, Stoke have highlighted some problems that Mark Hughes must address if their season isn't to peter out.
Goalkeeping concerns for Hughes
Firstly, some criticism must lie with young Danish goalkeeper Jakob Haugaard. The Stoke stopper has had a tough baptism of fire to the Premier League as he has been culpable for arguably all six of the goals that Stoke have conceded in the past two matches. Against Swansea last week he could have done better with both goals although one did take a deflection. Here, again, he was to blame. Alberto Moreno's opening goal of the match, a long range shot that didn't require much effort from the young Dane to save, was let in as Haugaard appeared to dive too late to get anything behind it.
There was also a cross from Divock Origi that went directly in, as well as two goals from crosses which he should have cut out before they reached the heads of Daniel Sturridge and Origi respectively. Haugaard must be more authoritative if he is to genuinely challenge Jack Butland when he comes back from injury during pre-season.
It is easy to be critical of a young goalkeeper who is still finding his way in the league, but considering the way in which Butland looks so assured having been inexperienced at the start of the season will ask questions about Hughes' loyalty to Haugaard, or whether he now brings in Shay Given against Tottenham Hotspur following his return from injury. The predicament that now prevails highlights the catastrophic effect that losing Butland has been to Stoke, and Hughes will be cursing the rotten luck that has occurred this year with injuries to his squad.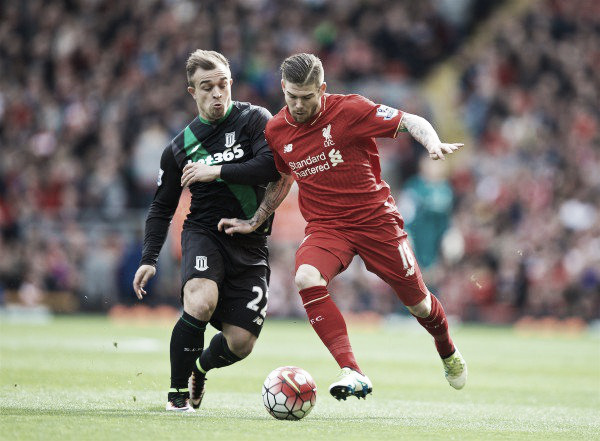 Crouch plan backfires
Secondly, the match on Sunday also asks questions of Hughes tactically. It seemed bizarre that Hughes opted to start Peter Crouch as the sole striker, ahead of Joselu, who had done little wrong in his previous outings. It must be noted that Crouch started the semi-final that Stoke were victorious in, and he also offers the long ball option to bypass the Liverpool "gegenpress" that Jurgen Klopp has implemented this season. But for this very reason Crouch appears to limit the attacking nature of a side whose style is dominated by passing around oppositions, instead of using long balls.
Despite Crouch's ability along the floor and his close control, it appears too easy for teammates to hit long balls into Crouch and ask the tall forward to win headers and knock the ball into space for runners in behind. This limits the intricate possession game that Hughes has implemented in his time as Stoke's manager. However, it did nearly pay off as Crouch had a goal disallowed for offside that would have put Stoke two goals to one up. In failing to play Joselu, who offers an aerial threat in addition to more elaborate link up play with the midfield, it seems as though Hughes got this tactically wrong as Liverpool dealt easily with Crouch as the sole striker.
Mighty Marko
Thirdly, Marko Arnautovic was also missing from the Stoke City side as he was suffering with an injury, and this meant that Ibrahim Afellay went onto the left wing, with Xherdan Shaqiri coming back into the side on the right. In his absence Stoke lacked any meaningful attacking notion as they failed to have any width or intensity that the Austrian brings. With the left winger out of contract next summer and contract negotiations still ongoing, it highlighted how vital it is that Arnautovic signs a new deal considering the attacking threat that he brings.
The return of the Spanish matador
Finally, there is one positive from the match and that is the continuing form of Bojan Krkić. Having scored two goals in his last two matches the talented Spaniard appears to be recapturing the goal scoring form that was on show before his knee injury last year. If he manages to keep this up until the end of the season in addition to having a full pre-season at Stoke, he could yet fulfil the potential that made him burst onto the scene at Barcelona as a youngster.