On Saturday, Stoke City travelled to London in a bid to end the season brightly with the hope of matching their previous best points tally still a possibility. Mark Hughes started with the same side as he had done seven days previously against Sunderland.
Stoke were looking to avenge the reverse fixture in which the Potters were beaten with a last minute strike from Korean Lee Chung-yong in a game where Stoke were unlucky not to grab all three points, let alone zero.
Charlie Adam's much needed return
Hughes started Charlie Adam in the number ten position behind Peter Crouch. In the first half in particular Adam proved instrumental in all that Stoke did well. The Scotsman is gritty, determined and certainly not scared to put a foot in when he needs to. Perhaps in his absence from injury the Potters have missed his ruggedness in the middle of the pitch. Throughout the first half he harried and put himself about earning a few words from Yohan Cabaye as he generally just made a nuisance of himself.
However, besides this, he made a much more telling impression. It was Adams industrial running, bypassing the runners from Crystal Palace midfielders that enabled him to latch on to Marko Arnautovic's perfectly weighted pass that allowed him to shoot across Wayne Hennessey to open the scoring for the away side. With his wrong foot, Adam certainly made clean contact and justified his starting place netting for the first time for 369 days.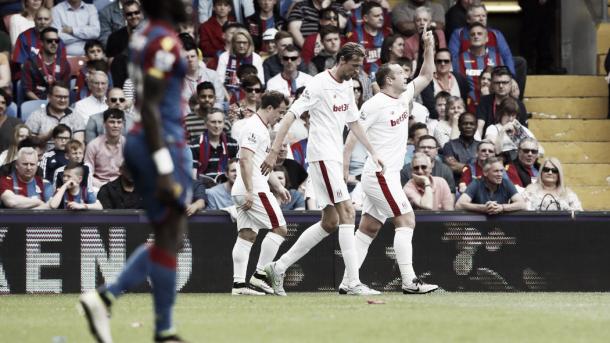 Mark Hughes' frustration is felt by all
It feels at times that the post-match comments could write themselves and Mark Hughes must be the most frustrated manager in the Premier League knowing that it is the same problems and the same players making a difference each week.
During the first half Jakob Hauugard could have been forgiven for having a nap on his post. However, the ever dangerous Dwight Gayle gave the young Dane something to do, picking the ball up out the back of his net two minutes after the restart. The usual defensive frailties let the Potters down.
Yannick Bolasie was allowed to pick the ball up near the half way line with only weak challenges attempted to avert the danger. First Arnautovic, then Phil Bardsley, before Ryan Shawcross and Geoff Cameron all failed to clear as the ball fell to Dwight Gayle who would have done well to miss.
Young 'keeper must get better
These defensive lapses must not occur if Stoke are to stop this poor form carrying on into next season. Despite not being at fault for the first goal, the young goalkeeper was to blame for Dwight Gayle's second.
A free kick 25 yards out which was struck sweetly, but not with great pace, and certainly not in an area in which a goalkeeper wouldn't expect to reach, was allowed to curl into the net at a saveable height. Hauugard should certainly have made a better attempt at stopping the free kick and his worrying trend of letting in saveable shots continues.
Jack Butland's return to the side next season cannot come soon enough and since his injury the Potters' season and form has fallen off a cliff. Luckily for Stoke the side were safe when he was unfortunately injured on international duty; otherwise it could have been a very different story this year as the Potters currently find themselves second bottom in the form table, just one point ahead of Aston Villa.
Even Marko comes up short
Stoke didn't deserve to lose this match and with five minutes to go, following a delightful chip from second half substitute Stephen Ireland, Stoke's shining light this season, Marko Arnautovic, took the ball past an onrushing Hennersey. The Austrian, in a rich vein of form, had a glorious chance to become the first Stoke player to score 12 goals in a season. With an open goal, the Austrian, usually so cool under pressure, just had to place the ball into the back of the net and equal the scores.
Instead, he opted for power and shot over, in an attempt that summed up the end of this campaign. In the second half Stoke created few chances such as these. It is perhaps harsh to criticise a player such as Arnautovic who on any other occasion would have scored, and has at times carried this Stoke side.
For Crystal Palace this was the perfect warm up for their FA Cup final against Manchester United in two weeks' time. For Stoke, who are facing West Ham next week, a win would be a perfect tonic for what has been a whimpering end to the season.