Alberto Paloschi is hoping that his Swansea City switch can help him earn his first senior cap for Italy.
The striker joined the South Wales club last month from Chievo, and has explained that he wants the move to act as a "springboard" in his career to help him earn a call-up for his country.
Paloschi hasn't found the back of the net for the Swans yet, but his performances have been promising and he is hoping to make an impression at the club under a manager he rates very highly.
Italy dream
Speaking to Inside Futbol, Paloschi explained that the reasoning behind his move was largely down to his ambitions to be called up for Italy.
"I hope Swansea can act as a springboard for the Italy national team," he said, with him having been called up before but still yet to earn his first senior cap.
The striker played at every youth level for his country and is hoping to experience the next level of international football now, citing the success of Southampton striker Graziano Pelle as something he looks up to: "He needed to go abroad to become an international. I hope it will be the same for me."
This wasn't the only reason behind his move, however. Paloschi says the Premier League appealed to him because it's "the toughest and most exciting league in the world," adding that his "first impressions" of the division are "very positive" too.
The same goes for his new club as well, with the striker calling Swansea's facilities "wonderful" and saying that they "can only be compared to one of the top clubs" in Italy.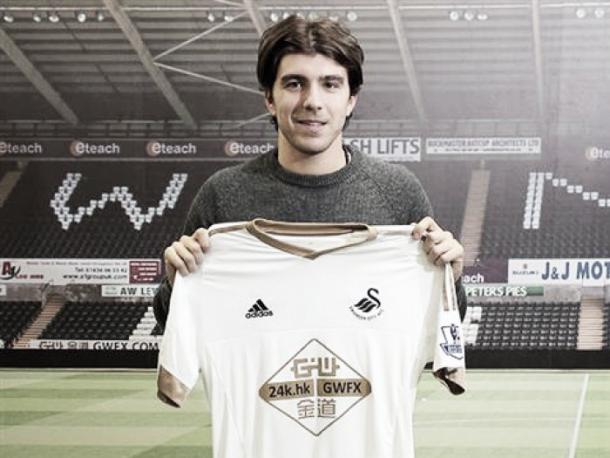 Guidolin factor
Arguably the key factor in Paloschi's move to England, nonetheless, was the presence of Francesco Guidolin. The Italian manager knew all about the striker, singling him out as a target for his new club before moving for him in the window.
The respect the player has for the coach is clear too, with him saying that, "alongside Carlo Ancelotti," he is "the most important coach [he has] worked with."
The two worked together at Parma and Guidolin's trust in a 20-year-old Paloschi was key as the player had a stellar first season "as a regular" at a club.
"Under him I grew up a lot," he said, "both as a player and as a person."
The fact that Guidolin "trusted" him was "very important" he said, citing it as the reason for his "great" first season at Parma - where he scored 11 goals as the club were promoted to Serie A.
Swansea, the manager, and the striker will all hope that he can reproduce this form in South Wales now, as they are becoming far too entangled in a dangerous relegation battle, sitting just three points off the drop zone.
Goals are what they need, and Paloschi certainly has the ability to produce them.