Just three games into his Swansea City career, there have been some rumblings of doubt among Swansea fans about their number-nine, who has yet to find the back of the net for his new club.
This has happened before, outside of Wilfried Bony, Jason Scotland and Lee Trundle, Swansea supporters haven't been able to boast about their forwards in recent history. Due to this, the Liberty Stadium faithful are ready to latch on to criticism of their new striker, and deem him not fit to lead the line.
There are several factors that need to be considered before looking at Alberto Paloschi in the same light as Itay Shechter, Leroy Lita and Alvaro Vasquez. Factors that fans may not be aware of, but definitely play a huge role in a player's performances.
Playing outside of Italy
For instance, this is Paloschi's first club outside of Italy. It's tough to spend 10 years playing football in one country, and then one day just change everything completely. Not only is he moving from the country where he spent his whole career, he's done that and moved to the Premier League, where numerous pros and ex-pros have stated how massive the change is to make that jump and how difficult it is to produce in the league.
Paloschi has made a step that is a huge risk, and has done it mid-season too. A phrase that is thrown around a lot in American sports is 'mid-season form', meaning that mid-way through a season is where players are physically and mentally in the best condition they will be in all season, before players start to get fatigued. Paloschi joined the toughest league on the planet while the majority of other players in the league are in their prime condition.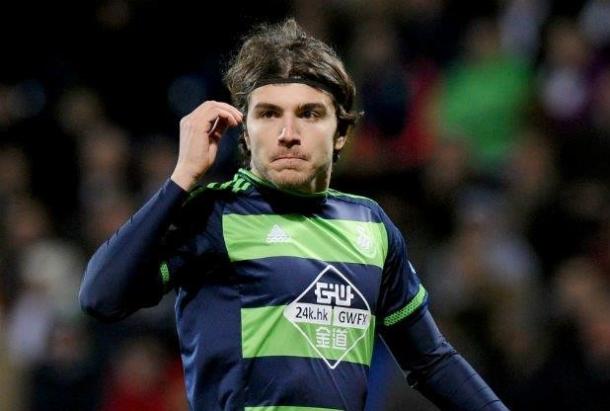 Getting used to the club
A reason why clubs tend to do the majority of their business in the summer transfer window as opposed to January s that players can acclimatise to their surroundings before the season starts. They can learn the language, build chemistry with their team-mates and get to know the fans all before playing a game of football. Paloschi hasn't been able to do that. These factors are huge, and there are several case studies to show that it is difficult to be successful in the Premier League without them.
One advantage Paloschi does have is that his manager is Francesco Guidolin, a coach who he has previously worked for and enjoyed success under. They both worked together at Parma, where Paloschi scored 12 goals in Serie B as the two won promotion to the Italian top-flight. This chemistry means he understands tactical instructions from the manager, which is an absolutely necessity in the modern-day game.
It is also worth noting that despite three goal-less appearances, Paloschi hasn't played poorly for his new club. He came close to seeing the back-of-the-net bulge twice on his debut against West Brom and generally his link-up play with other forwards has been impressive, so has his work off the ball been. Guidolin seems insistent on playing a pressing game when Swansea aren't in possession, and Paloschi seems the perfect striker for that tactic.
It's also worth noting that the Italian only scored one goal in his first four games for Parma, it also took him over a month after signing for Genoa to score his first goals for the side. When Paloschi first joined Chievo, it took him nine games to score two goals, so perhaps he is just a slow-burner.
Paloschi might not be the answer to all of Swansea problems, but there's no need to write him off before he has the chance to prove whether he is or isn't. He is an unknown quantity, and should be given the patience and freedom to prove his worth to the fans.