André Ayew is in France receiving specialist treatment for an ankle problem, meaning he is unlikely to feature in Swansea City's clash this weekend's with Aston Villa.
The Ghana international missed the weekend's defeat against Bournemouth, and could be out for a couple of weeks yet depending on what news he gets on the extent of the injury.
Ayew initially picked up the problem in the slender 1-0 win over Norwich City, and Swansea will hope that it is not a serious setback as they look to cement their place in the Premier League for next season.
Crucial run-in
The forward's injury comes at a terrible time for his team, who are so close to securing survival but still in need of a couple of results yet.
Speaking to BBC Radio Wales, first team coach Alan Curtis said that he "would not have thought" that Ayew will be fit to face Villa this weekend, adding that he's probably going to be out for "a couple of weeks."
Fortunately enough, the international break that is coming up after this weekend's game should limit the amount of action he misses, and so Swansea should have Ayew out on the sidelines for fewer matches than first thought.
With eight goals to his name this season after being, without a doubt, one of the team's star performers, this will be good news for the club as they continue to move closer to safety.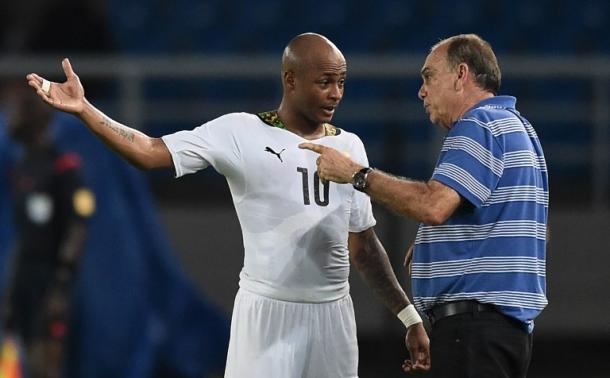 County could suffer
However, whilst his club will not suffer without him for too long, Ayew's country could be without him for two Africa Cup of Nations qualifiers that take place during this month's international break.
Ghana face Mozambique home and away within the space of three days next week, the former fixture to be played on Thursday 24 March and the latter on Saturday 26.
Mozambique are bottom of Group H having lost their two games so far, but the absence of skipper Ayew will be huge regardless of the opponent.