Liam Shephard has returned to Yeovil Town on a one-month loan deal.
The Swansea City youngster became a fan favourite last season when he spent the campaign on loan with the Glovers, making 20 appearances as the team were relegated from League One.
He has spent the entirety of the current season so far with Swansea's under-21s, but has now agreed a deal to return to Huish Park for the next month - though his stay could be extended if all goes well.
Familiar terrority
Shephard rejoins a Yeovil team who are languishing at the wrong end of the League Two table, looking to avoid a third successive relegation.
However, despite being only three places above the relegation zone, the Glovers are a healthy 11 points above the bottom two with just nine games to go.
Darren Way has bolstered the survival bid with the signing of Shephard too, a player he told the club's official website is "a fantastic signing for the club."
The manager believes it's "great" that Yeovil "know all about him" and that the player himself "knows all about [the club]," which can help him settle in.
"In a difficult environment [last season]," Way continued, referring to the Glovers relegation from League One, "he was a very, very successful signing," which he was "rewarded" for as he picked up the Young Player of the Year award in the South West.
"He is a great player that will add to our squad," the boss believes, adding that he is convinced that "all [Shephard's] attributes" can "certainly help" Yeovil in their "aim to stay in the Football League."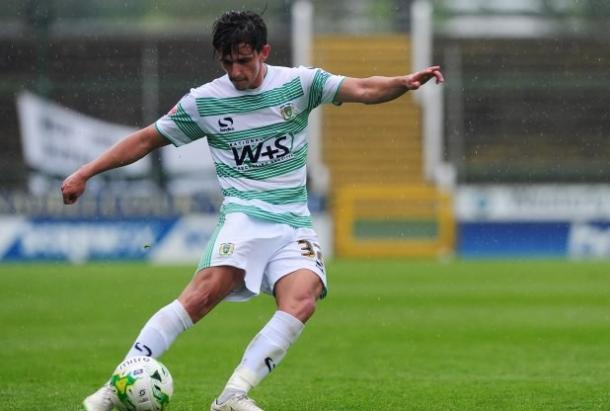 Battle of the Swans
Shephard will be greeted by a fellow Swansea youngster at Huish Park, with Connor Roberts also on loan at the fourth-tier club.
Roberts is a fellow full-back, a fellow Swan and a fellow Wales under-21 international, who actually replaced Shephard in the county's latest squad due to him having to pull out with a slight knock.
Roberts, aged 20, will see his record of having played every minute for Yeovil come to an end this week as he leaves on international duty, but it opens up a spot for his 21-year-old compatriot to fill in and make his return to the club.
Way told the Western Gazette that Roberts knows he won't walk back into the team when he returns from his duties with Wales too, as he and Shephard prepare to fight for the right-back berth.