Swansea City have miraculously made strides every season since Roberto Martinez took over as manager in 2007, but this season the club has struggled immensely. They are all-but safe now, but have flirted with relegation for the large part of the season.
Results haven't been the only thing to go wrong for the Welsh side, as three different managers have been at the helm this year. Garry Monk started the season as boss, hoping to build on last year's record points tally, but lost his job at the start of December. The men behind the scenes didn't seem to have a plan for if Monk were to leave his post, something that was scrutinised among the media, which led to club stalwart Alan Curtis taking the reins for a month and a half before Italian Francesco Guidolin took charge.
There has been on the field worries, as well as off the field worries, but one main concern among fans is that Swansea have lost their identity. For years there has been an ethos running through the club, that they would do things the right way. From top to bottom, everyone would feel part of the club and know that even if results didn't go their way, nothing was fundamentally wrong. There isn't the same assumption around the club this season.
Behind the scenes
The recruitment department at Swansea for the past few years have been spearheaded by Chairman Huw Jenkins and his black book, and it's worked out well for the most part. The club were praised for being able to sign Michu for just £2 million, and Wilfried Bony for just £12 million. At the start of the season, figures were released stating that Swansea's squad was the sixth cheapest in the league. It seemed great at the time, and for years the club has been one to get more value out of players, and able to make a profit on the majority of players bought by the club.
This year, however, hasn't continued in the same vein. In the summer, Swansea signed four players for the first team. André Ayew, Kristoffer Nordfelt, Franck Tabanou and Eder. Only two of those are currently at the club, and Ayew is the only one to hold down a starting role. Compare that to the summer of 2014, where Lukasz Fabianski, Gylfi Sigurdsson, Jefferson Montero and Federico Fernandez all became important members of the squad.
As of recent years, Swansea haven't had as big a budget as other Premier League clubs. In January, local journalist Chris Wathan revealed how the majority of the club's budget was spent on wages. With the training ground only just being finished too, it's been hard to recruit players commanding big fees. They are also one of the few clubs that don't have a 'sugar daddy', and can't just borrow a certain amount of money from a shareholder in order to splurge £20 million on a player. Things are looking up though in that department, as the training ground was recently completed and the huge cash injection Premier League clubs are to receive from next year's television deal.
The boss
Guidolin has reiterated his desire to stay at the club beyond his contract, which ends this summer. However, the club have said that they will evaluate the situation at the end of the season and will make a decision then. There are a few paths in which the directorial side could choose to take the club, and it starts with who becomes the next Swansea manager.
There's a case to be made that Guidolin deserves an extension on his contract, considering he has kept the club in the Premier League in arguably the year they most needed to. He has instilled a better passing game than fans have seen earlier in the season, and he clearly values winning the midfield battle extremely highly, something Swansea fans will agree.
However, the defence hasn't looked any more 'sured up' than when Monk or Curtis was in charge. Since Guidolin has been in the dugout, Swansea have conceded 10 goals in nine games, which generally is okay. However, looking at @MC_of_A's Expected Goals model, in those same nine games their Expected Goals Against is 13.5, so it's fair to say that Swansea and the Italian have got lucky.
Then there's the problem that he hasn't been able to sort out any offensive system, and just hope that Sigurdsson scores, which he has done of late. There's also the matter of his questionable tactics; i.e. playing Sigurdsson wide left against Aston Villa, substituting Jordi Amat on in midfield and playing Kyle Naughton as a winger.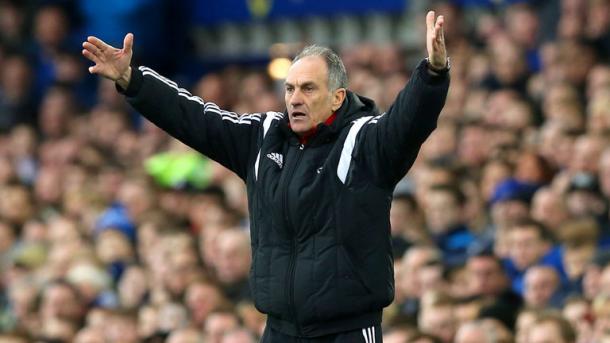 Should Swansea opt to appoint a new manager, the first name on everyone's lips will be Brendan Rodgers. The former Swansea manager was linked with a return after Monk was sacked but reportedly turned the job down because he didn't want to be involved in a relegation battle. Which, is fair enough really. Going from being Liverpool manager to getting Swansea relegated would be almost as big a step-down as Rafa Benitez' trajectory recently.
Rodgers took Swansea to the Premier League and established them as a top-level club, doing so while keeping to the aforementioned ethos, which he continued at Liverpool. It's easy to see why the board would want him, and it's hard to argue against it. He's a proven manager at the top level, knows the club and shares similar values.
Outside of Rodgers and Guidolin, there are some other names that could be thrown into the hat. Ajax manager Frank de Boer has previously hinted that he would be interested in the job. Not only is he a very successful manager but he could help more towards the recruitment stage as Ajax are very well known to have a huge scouting department.
Full back(s) wanted
On to the players, and defence is first up. The abundance of goals that Swansea have conceded from set-pieces this year is incredible. There has to be a lack of defensive coordination somewhere, it's not as if the players are poor aerially. Really, it's down to the coaching staff to find a way for the team to defend better from corners.
To personnel, right-back looks like one of the key areas where the club should spend on this summer. Angel Rangel has been at the club so long his mixed Spanish-Welsh accent is brilliant, and there will be much surprise if he is moved on. Naughton, however, was signed in January 2015 and hasn't been able to hold down a starting role, and it looks increasingly likely that he'll be out of the door in the summer.
As for replacements, the club needs a dynamic full-back that can 'play the Swansea way' and defend. It's too early to know who will be on the move this summer at other clubs, but a right-back should be high on Swansea's priority list.
As for the opposite flank, everybody seems to have an opinion on Neil Taylor. The Swansea fanbase is split 50/50 on whether they actually think he is a good footballer or not. The Wales international is poor going forward, the eye test proves that. He definitely makes up for it on the defensive end though.
Before a few weeks ago it was almost a certainty that the club would sign a new left-back to at least challenge Taylor, but the emergence of Stephen Kingsley makes it seem less and less likely now.
Midfield is where the money must be spent
It's been a strange time for Swansea's central midfielders, with Ki Sung-Yeung being out of form for the entire season. It wouldn't be a shock to anyone's system if the Korean was sold to finance other moves, because he has been so poor. Leon Britton has found himself in and out of the squad all season despite impressive performances when he does play, and it's hard to count on him for an entire season now that he is on the tail-end of his career. The only one with any consistency to his game has been the wonderful Jack Cork.
Cork is likely to start next season in a two-man midfield alongside a new signing. This is where Swansea need to spend their money, and if there is going to be a big-bucks move this summer it should be for someone to fill this role. Over the past 12 months, Stoke City have signed Gianelli Imbula, Crystal Palace have signed Yohan Cabaye and Watford have signed Etienne Capoue. Swansea need to compete in this area and the current midfielders just aren't up to scratch.
Out wide, Swansea have a lot of options. They have two very good right-wingers in Ayew and Modou Barrow, which could lead to the Ghanaian switching to the left flank where he was more familiar with at Marseille. Add Wayne Routledge and Jefferson Montero to the equation and Swansea have a good group of wingers, even if the latter is out of form and favour at the club. Unless one departs, don't expect another signing in that role.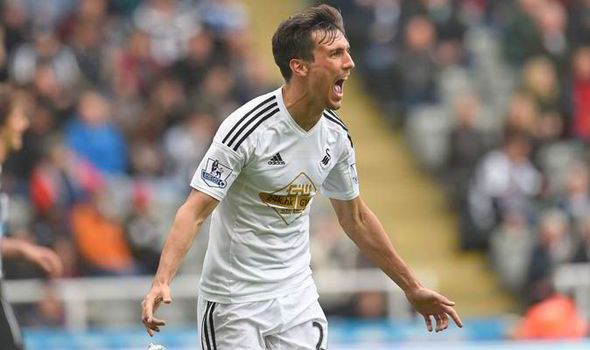 No massive striker incoming
Swansea more than likely are not going to spend a lot of money on a striker. Let's allow that to sink in.
Considering they already spent £8m on Alberto Paloschi in January, they probably aren't going to give up on such a sizable investment after six months. However, Bafetimbi Gomis should leave the club, and if he does another striker will be brought in to replace him. They haven't had a lot of success with second choice strikers, but surely their fortune will change eventually.
Someone like Jermain Defoe could be an excellent acquisition, barring his wages aren't excessive. All the side needs is two strikers that between them could get 15 goals a season, and the majority of that could come from Paloschi despite him scoring just one for the Welsh side so far.