Swansea City full-back Stephen Kingsley has set his sights on staying grounded after plenty of praise recently.
Kingsley started for the Swans in their 2-1 win over Arsenal at the beginning of the month, and he was granted another go from the start against Aston Villa in the team's last outing too.
The Scotland under-21 international has been the recipient of kind words from fans and fellow professionals since, but has told the Daily Record that he is only concerned about continuing to work hard for opportunities.
Henry praise 'surreal'
One man particularly impressed by Kingsley recently has been Thierry Henry, who sung his praises on Sky Sports after the youngster's performance against Villa.
The full-back said he heard about the former Arsenal striker's words first when his dad "sent [him] a text," and then he was told by a few other family members too, with it all "a bit surreal," he recalls.
Kingsley had recorded the game and so watched it back when he got home to hear what Henry said. He described the words as "a shock, but very nice to hear," adding that "it's a great compliment having someone of that stature praising you.
"That gave me great confidence," he said.
However, despite all of this, he says "you never feel like you've made it," with him fully focused on continuing to graft and nail down a starting berth; "there's a lot more work to be done."
The 21-year-old is taking nothing for granted, with the fact that he's "done well" in two games not changing the fact that "there's a lot to be improved.
"It's a long road and I want to solidify my spot at left-back."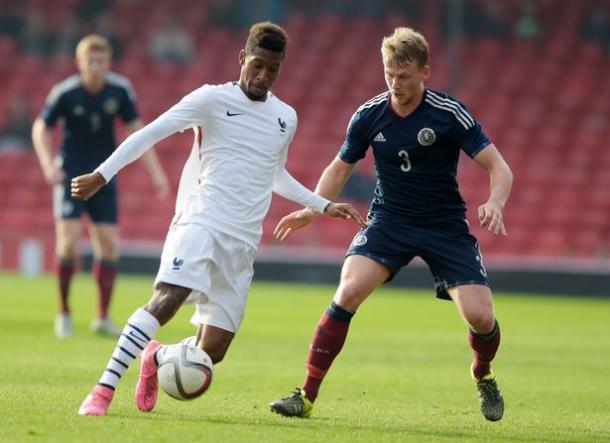 Good group around him
Helping Kingsley stay focused is a good group of people around him, he says. From family to fellow professionals, he is thankful for the work people do to benefit him and his performances.
Alex Smith is someone he points to most as being responsible for his development, a coach that "brought [him] up from the under-17s" and made "the effort" to go to the Emirates to watch his full debut.
"He's a figure I still look to for advice and keep in contact with," he said, adding that it was "amazing" to have him watch him start in North London.
As well as that, he cites former boss Garry Monk and current first team coach Alan Curtis as important figures, the latter of whom he "get[s] along with well."
Kingsley even says that Curtis warned him "not to be surprised if [he] was starting" against Arsenal, telling him that the team "had every faith" in him and that he is "more than capable of playing at that level.
"Alan gave me confidence," he said, the coach telling him "just to go and do [his] thing" - and that he did, helping the Swans secure a surprise 2-1 win.
However, his stellar performance that evening was down to the XI on the pitch too, he says, describing all the players that night as "brilliant."
Captain Ashley Williams is someone he says helped him in particular, as the Wales international "talked" Kingsley "through the game" and "made [him] feel settled.
"When you're playing alongside players like that, it makes it a lot easier."