Angel Rangel has hit 300 league appearances for Swansea City and is not looking to stop anytime soon as he approaches 10 years in South Wales.
The Spaniard arrived at the Liberty Stadium in 2007 and has risen from League One to the Premier League with the club, playing a key role along the way.
"When you hit milestones like this it gives you a nice opportunity to reflect," Rangel told Swansea's official website as he looked back on nine years with them.
Career-changing first season
Rangel arrived at Swansea when they were in the third-tier of English football, joining from third-tier Spanish side Terrassa to link-up with compatriot Roberto Martinez, the current Everton manager then in charge of the Swans.
He spoke about the massive difference between the two leagues despite them being on the same level of their respective pyramids, describing it as "a huge change" for him because of "the physicality, the tempo, [and] the facilities" at Swansea.
"The most important season was my first one here," he said, with the differences extremely dramatic.
"I played 52 games. I had a hernia operation near the end of that season because of the sheer amount of games and the effect that had on my body," he explained. "I just wasn't used to it."
However, he said the pain was "worth it" as the team clinched the League One title and were promoted in a season that Rangel says "changed [his] career."
The right-back believes it's important to "adapt" when you switch clubs, and that Martinez's presence as another Spaniard at the club "was a big help" in him doing this "at the start."
Furthermore, he credits the team's playing style for allowing him to settle. He says that "keeping the ball and playing quick and short passes" is something that suits him, and "if it had been any different" then he would not have played 300 games for the side as his own "style" wouldn't have suited Swansea, "and vice versa."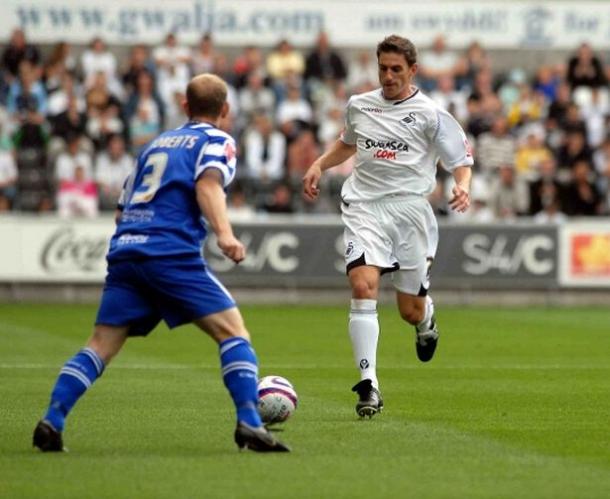 Times flies
The milestone came as a "surprise" to Rangel though, "because time has gone so quickly" during his stint with the Swans.
Nonetheless, he recognises that it is "a fantastic achievement," with him joining the club "not really knowing if [he] would play 30 league games, let alone 300."
He was quick to thank the club for all they have done for him since he's arrived too, which has helped him become a key player.
"Before I came to Swansea, I changed clubs a lot because I wanted to learn and improve from different coaches and players," he explained.
Rangel spent the 2004-05 season with Girona, the following campaign with Sant Andreu and then 2006-07 with Terrassa. Thus, for him to be on the verge of 10 years with Swansea is very unexpected going by his early years.
However, he puts that down to everything in South Wales fitting perfectly; saying that his journeyman days ended because he "found the right club."
Defying expectations
Reflecting on his time spent with Swansea, the main thing that Rangel has enjoyed at the Liberty is proving people wrong.
"People said that we wouldn't get anywhere playing pretty football," he recalled. "I think we were tipped to get relegated [the year we won League One]," he added, which made the glory even sweeter.
"Then, in the Championship, we were told we had no chance," he continued. "We were tipped to go down again."
However, Brendan Rodgers guided them to the Premier League through the play-offs, and Rangel believes that "the manner" in which they reached the top flight made people "take a bit of notice" of "the quality footballers" they boasted in their squad.
Even still, they weren't expected to succeed like they have done in the top flight either. "I remember someone saying we would have [the] record low points tally," the right-back said. "We didn't do too badly that year either, funnily enough."
"We've been used to defying the odds and the opinions of the expert pundits."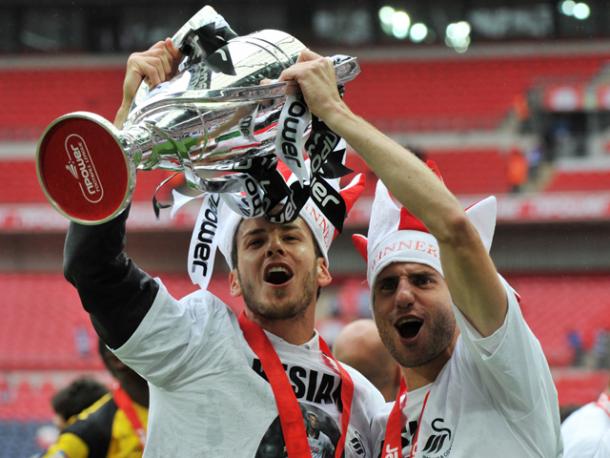 Next up - 10 years?
As for what's next, the 33-year-old defender wants to turn nine years into 10, which seems more than likely with another year left on his current contract and the right-back berth having been his for most of the season.
"I would love to give 10 years' service to this special club," he said. "That would mean a lot to me."
He believes that the potential milestone would go a long way in repaying Swansea for all that they have done for him, saying that they have been "very good" to him and that he hopes he's been "a really good servant" to them in return.
"We have been great for each other," Rangel concluded. "It has indeed proved a perfect fit."