The Swansea City supporters were finally able to breath after the club's first ever win over Chelsea on Saturday, with them taking home three points in a 1-0 win at the Liberty Stadium.
One of the key factors in the game was the back line of the Swans, who stifled the Chelsea attack and kept Lukasz Fabianski out of trouble for most of the night.
Ashley Williams once again organised a great game from the back in perhaps the strongest performance of the Guidolin campaign, and he was thrilled with the performance of the team.
Speaking to Swansea's official website, the captain said he was pleased with "a good performance" in which the team "kept a clean sheet against one of the top teams."
"It's a very happy dressing room right now," he added.
"We did really well in the first half," Williams believes. "We set our stall out and started to perform," with the team creating "a lot of chances" throughout the afternoon.
"Everyone out there had standout performances, and when we play like that, we're a difficult team to beat."
Moving up the Table
Swansea have now won four of their last five games under Guidolin, a run of form that has all but secured staying up this year. The 40-point mark has them 13 points clear of third-bottom Sunderland, but there is still room for improvement.
The Swans now command the 12th spot in the Premier League standings and are still in the hunt for a top 10 finish. Williams was proud of his club on the day, but called for a strong finish, saying: "It's important we stay focused and show the same attitude between now and the end of the season. We want to finish strongly and take that momentum into next season."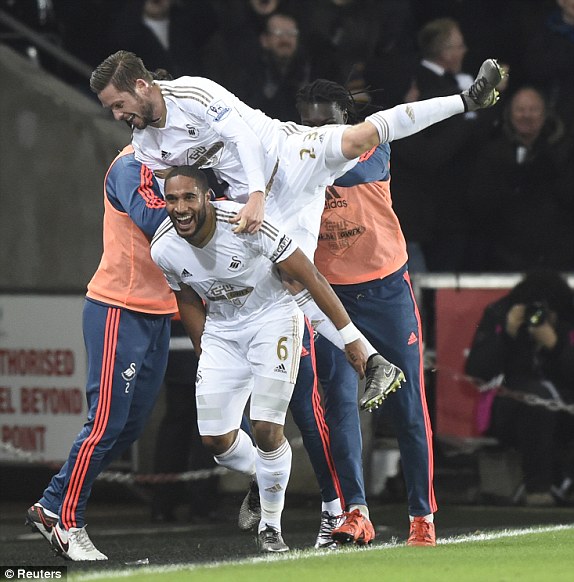 Inspired Play
In the current run of 12 points of 15 from the last five games, there has been a total buy-in from the club on the mission toward 40 points.
Each player has stepped up and fought for every chance, tackle, and header that has come their way. The headstrong attitude of Williams and his club has brought life back into the Liberty, a place that seemed haunted not three months ago for the club.
The 40-point mark has been reached and a hold on their place in the Premier League seems more than likely, thanks to the leadership of the Welsh captain and a combined effort from the club to improve each week.