Swansea recorded their first ever victory over Chelsea in the Premier League last weekend, securing their safety in the division and reaching the 40 point milestone in the process. Whilst the players were overjoyed at the result, the Swansea fans who have traveled across England in what has been a very difficult season for the club were certainly just as pleased.
Hence why Leroy Fer dedicated the result to the clubs faithful followers, claiming that the squad "wanted to win the game" for them. After the clubs worst season since being promoted to the Premier League, the fans have stuck by Swansea throughout and this result despite Chelsea's poor season was a fantastic boost of confidence, allowing them to look ahead to next season.
A Matter Of Luck?
Even though the Swans have struggled to pick up results this season, Fer insists that they have beem "unlucky" in "a lot of games" throughout the year, when they have "played well" but not got the results they hoped for.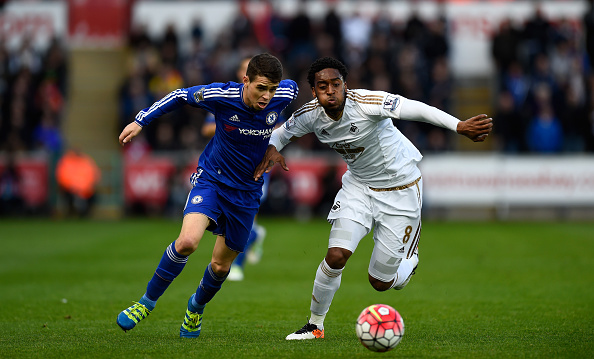 Swansea won the game 1-0 through Gylfi Sigurdsson's 11th goal of the season in a "very good" performance according to Fer who believes that Swansea "deserved to win," inflicting Chelsea's first defeat in 15 matches.
Looking Forward
Now that the club have secured their safety for next season they can begin to rebuild and look ahead to ensure that they don't replicate this season and for Fer, the fact that Swansea have been "playing better" in the, "last few weeks" is giving hope that next season will be a different story.
He is now fully focused on looking "ahead" and Fer hopes they can "keep doing what we are doing" as the season draws to a close. But now that Swansea are safe, Fer isn't happy to just rest and see the season out, as he now hopes to "see how many more teams we can catch" to gain as high of a finish as possible.