Swansea City's André Ayew has told the South Wales Evening Post that he is "happy" at the club, despite suggestions that he could be sold this summer.
Ayew has had a strong first season in England, scoring 10 goals from a wide position, and so rumours that the Swans could cash in on him at the end of the campaign have come as a surprise to many.
However, the Ghanaian is not concerning himself with the paper talk, insisting that he is enjoying his time with the club and would be keen to stay, although he admits nothing is certain in football.
Time to wait and see...
While neither Swansea nor Ayew can do much when rumours start to circulate, fans will at least be pleased to hear the player express his happiness in South Wales after his first season.
The forward is enjoying his time "at a good club with good people around" and says that he just wants to "continue doing [his] job," though he admits, "in football, you never know what can happen."
"I have a contract here," he said, "so if it's here I am going to continue playing my football, then good." Though he spoke about the end of the season presenting "a chance to discuss and see what happens [elsewhere]," he said this is only if he is told he won't be at Swansea next year.
It seems that the situation is in the hands of the club then, with Ayew "happy to be a Swansea player and happy that the fans [have] adopted [him] very well."
Difficult season for the Swans
It hasn't been the most memorable campaign for Swansea, who were threatened by relegation for some time before their fantastic 2016 form eventually saved them.
Ayew says that of course everyone at the club "wanted to have a better season, especially after the way [they] started," but conceded that everything doesn't always work out in football - which is "part" of the sport.
What's important is that "as players and as a team you learn from it," and it seems that the Swans have done exactly that, given their great recovery.
Now, it's about "finish[ing] the season well" and then looking to "see what's going to happen" after the final game.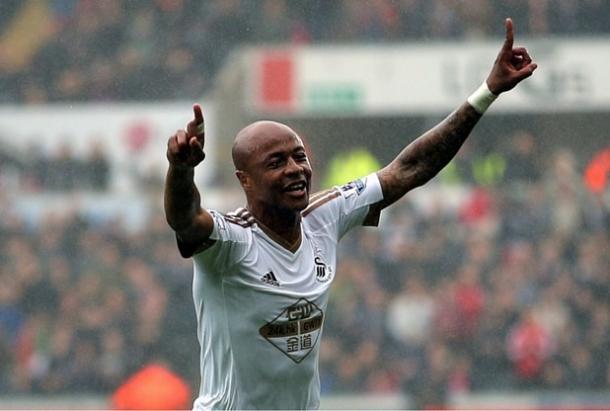 Teamwork is the key
Swansea's mini-revival hasn't been down to the individual brilliance of one player - though Gylfi Sigurdsson's goal-scoring form in 2016 has been terrific - it's been down to the efforts of the entire team, who have improved their performances massively.
Ayew believes this too, saying that "it's the teamwork that's important," as well as aiming to "keep winning" and move further up the standings with each point.
The player does have personal aims too, with him just one goal behind Sigurdsson in the race to be the club's top-scorer for the season, but he doesn't believe that is any near as important as the team's success.
"I've scored 10 goals," he said, and "created three or four penalties for Gylfi to score so with that I'm quite happy."
"Hopefully I can get one more maybe before the end of the season, but what's important is the fact we are safe and hopefully in the last two games we can play our football like we did against Liverpool."