Swansea City have a gaping hole in the middle of midfield, and Joe Allen seems the likeliest player to fill that void.
While the majority of Swansea fans would like to see the deal happen for emotional reasons, we'll take a look at the practicality of the transfer.
Whether it's a two or three-man-midfield, Jack Cork is the only Swansea midfielder than has played consistently well this season, and probably is the only player from the current crop to be in the starting eleven next year.
The club have higher priorities to deal with first though, such as their manager next season. Francesco Guidolin has openly stated that he wants to stay with the club, but the feeling behind the scenes is that someone else might be preferred.
It's difficult to say whether Allen's £15m move to Liverpool in 2012 was good value for money, but it does say a lot that the club aren't sure whether they want to renew his contract, which is up next season.
Dependant on the next manager
The majority of the 'Allen to Swansea' rumours have come from the idea that Brendan Rodgers may also return to the club. Rodgers took Allen from Swansea to Liverpool, and seems to have a soft spot for the Welshman.
If Rodgers does take over at Swansea, it would be no surprise if Allen is on his shortlist, and no greater surprise if the two do link up again.
Even if Rodgers doesn't return, there's still a gap in the side in midfield, and Allen could be signed as it is chairman Huw Jenkins that spearheads the transfer committee.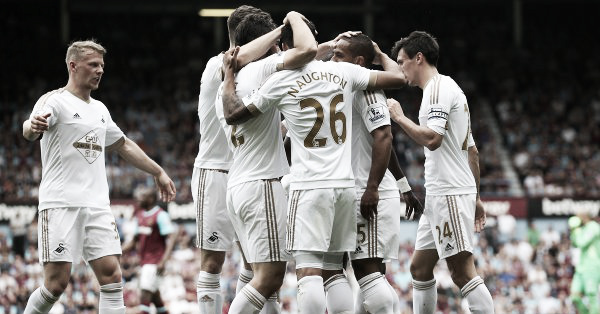 Is a different type of player needed?
However, Allen may not be the type of midfielder that Swansea need. An Allen and Cork midfield could be dependable, but it doesn't have any wow-factor that other midfields around the league have.
Looking at other midtable sides in the league, they all have a star player in the middle of midfield, and with the new television deal coming in place next season, they could even have two.
Stoke have Giannelli Imbula, Crystal Palace have Yohan Cabaye, Everton have Ross Barkley and West Ham have Mark Noble. Swansea have Gylfi Sigurdsson, but the Icelandic international plays closer to the forward line than the midfield.
Swansea need a Mr-do-it-all midfielder to partner Cork, and Allen isn't that sort of player. The Welshman is more of a complementary midfielder, and should the manager want to use a three-man midfield then Allen could be a good option.
Out of the current crop, Leroy Fer doesn't seem to consistently play well in the starting eleven and Leon Britton can't be trusted to play 40 games anymore.
Jay Fulton and Matt Grimes have promising futures but aren't quite ready to start at this level. Ki Sung-Yeung played well against West Ham but it was his first good performance in eight months, and will probably be let go this summer.
To sum up, Allen is a terrific player, but not one that Swansea necessarily need right now.