Ki Sung-Yueng will not be able to stake a claim to remain in South Wales this weekend, with him to miss Swansea City's final game of the season due to compulsory military service.
In South Korea, citizens must complete two years of military service before the age of 29 or face being exiled, but Ki and his bronze medal winning teammates at the 2012 Summer Olympics saw the stint reduced to just four weeks after their exploits.
The 27-year-old helped his country cause a shock in London's hosting of the big event four years ago, which saw them eliminate Great Britain before beating Japan to third place - with him scoring the winning penalty in the former game in front of over 70,000 fans.
Their reward for that campaign is that they must only take a month out of their footballing careers to serve South Korea now, with Ki to do so as we head into the off-season summer months.
Guidolin confirms Ki's absence
Addressing the press ahead of Sunday's clash with Manchester City, Swansea manager Francesco Guidolin revealed that Ki would be missing for the match.
As well as him leaving for military service, the Italian said that he won't play tomorrow because the club also "want him to have some more time for a holiday."
"We wanted him to have more days off," he continued, which is why the decision has been made to allow him to miss this game, in which the Swans will be looking to thwart the Citizens' attempts to secure a top four finish.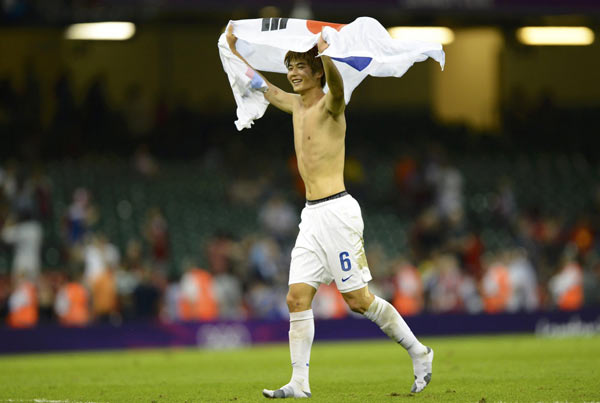 Has the midfielder played his last Swansea game?
Despite thoroughly impressing - and scoring - in the 4-1 win over West Ham United last weekend, that could have been Ki's final game in the white of Swansea City.
He has been under-par throughout the season and looks likely to be shown the door this summer, despite being a key player in the past for this team, many fans believe.
The midfielder surely would have been given a run out in this game, with Guidolin expected to rotate the XI as he rests players for the upcoming Euros, but instead he will miss a chance to impress the club.
However, Guidolin's pre-match comments suggest that he could want to keep Ki around.
"I like Ki," he said. "I think last Saturday he played very, very well," with the Italian adding that he feels the "shape" his side played in against the Hammers makes the South Korean "comfortable."
Whether this is enough to see him kept at the club though remains unclear as we near the opening of the transfer window.