Swansea City's top scorer Andre Ayew admits that his future at the club is dependent on a conversation with Chairman Huw Jenkins this summer.
The Ghanaian insists he is happy at the club despite a season with mixed fortunes, but with speculation around his future in both the recent weeks and last January, a move could be on the cards.
Ayew was signed on a free transfer last summer, and with the forward being evaluated at least at more than £15m, the club would make a large profit on him.
Ayew is happy at Swansea
After the season ended on Sunday, Ayew said: "I'm happy here. If I have to stay, fine. If I have to leave, I have to leave."
Ayew has been one of Swansea's better performers this season, despite playing in every forward role imaginable as management have been unable to find the right position for him.
It's been commonly stated among fans that Ayew being unable to stay out wide infringes on the space Gylfi Sigurdsson roams, and was one of the reasons why the club cashed in on Jonjo Shelvey during the winter transfer window.
The space freed up by selling Shelvey to Newcastle seems to be one of the major factors why Sigurdsson has been in such great form this calendar year, scoring nine goals in 2016.
When asked about his future, Ayew said: "I think you should ask the chairman, we'll see what's going to happen, we'll have a discussion and see the way forward."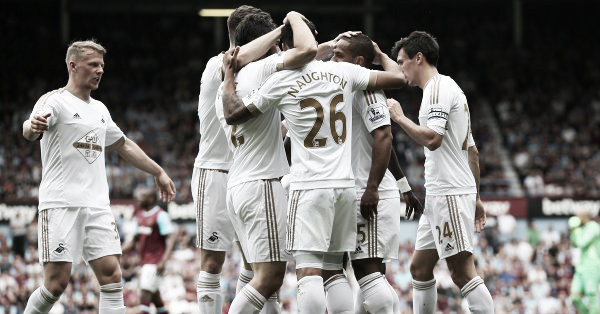 Possible destinations
It was well publicised in January that Sunderland had made several bids for Ayew, with some including former-Swan Fabio Borini as a makeweight.
Reportedly, Sunderland have made an additional bid of £10m this summer. West Ham have also been courting the forward according to local press.
If Ayew is made available by the club, they will no doubt have problem finding a suitor. The winger was the club's leading goalscorer this season, despite never finding a consistent role in the side.
Ayew's future
If he is made to exit the club, Ayew did state that he would prefer to remain in the Premier League. He also claimed that the Premier League is the best league in the world, and he admires the intensity of the English game.
It does seem that if Ayew is to leave the club, it would be the club's decision as opposed to the player's. It also is unlikely to be a financial decision due to the increasing money incoming from the TV deal plus the likely takeover at Swansea.