There have been no offers made for Swansea City's André Ayew, Sky Sports understand.
Both West Ham United and Sunderland are rumoured to be interested in the forward, who future is up in the air, but neither have acted upon any interest yet and given the Swans an offer to consider.
Uncertain future
Speaking to the media after the 1-1 draw with Manchester City on Sunday, Ayew was very unsure about what the future has in store for him.
There have been rumours of Swansea cashing in on him this summer, rumours that are extremely strange considering the Ghanaian finished as the club's top-scorer this season, bagging 12 goals in his first season in England.
However, there does appear to be some truth to the reports as Ayew himself doesn't know where he'll be next season.
When asked about his future, the forward said: "I think you should ask the chairman, we'll see what's going to happen. We'll have a discussion and see the way forward."
He admitted that he is "happy" in South Wales, but said: "If I have to leave, I have to leave."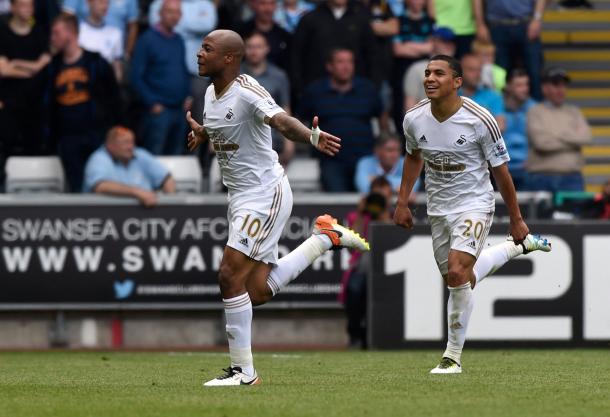 Black Cats revive interest
West Ham may be new suitors in this transfer chase, but Sunderland are not.
The Black Cats were keen on signing Ayew back in January but Swansea were never going to part with the goal-scorer given their precarious position in the standings then, especially when it was a relegation rival trying to sign him.
The Ghanaian started the season in good form, saw that teeter off and then revived at the end of the campaign, forming a good relationship on the pitch with second top-scorer Gylfi Sigurdsson.
It seems unlikely that the club would want to let their main attacking outlet go, though it is possible if Swansea have other options lined up.
Still, all these rumours could be put to bed in the next week or so, depending on how Ayew's talks with the club go.