Andre Ayew was linked with a move away from Swansea City in January, and the reports have returned and rumours have circled that Sunderland and West Ham are interested in the player.
Better for the club?
It's been clear for a while that Swansea haven't been able to find a regular role for Ayew. He has mostly played on the right wing (15 out of 34 Premier League appearances), but has frequently played as a striker, also on the left flank, behind the striker and even in centre-midfield.
When played out wide, Ayew has spent the majority of his time cutting inside. He has flourished towards the end of the season playing as the lone striker, but that has been with Alberto Palsochi out injured.
Perhaps one of the reasons why manager Francesco Guidolin has experimented with so many different formations during his time at the club has been to try and find a role for Ayew, as he is without a doubt one of Swansea's most talented players.
More room for Sigurdsson
One of the major reasons why Gylfi Sigurdsson struggled during the first half of the season was due to Jonjo Shelvey and Ayew taking up the space where he usually roams during games.
Shelvey was sold to Newcastle United in January, and ever since more space opened up for the Icelandic international. Sigurdsson scored three goals before Shelvey moved to Newcastle, and eight following the transfer.
Swansea's lack of firepower
Sure, there are positives for the club selling Ayew, but there are certainly negatives too. For instance, he has been Swansea's top scorer this season.
In a season where Swansea's main problem has been scoring goals, selling their leading goalscorer seems like a terrible idea, unless someone of Wilfried Bony's magnitude comes to the club.
Swansea scored 42 goals in the Premier League this season, which is the lowest total since they achieved promotion in 2011.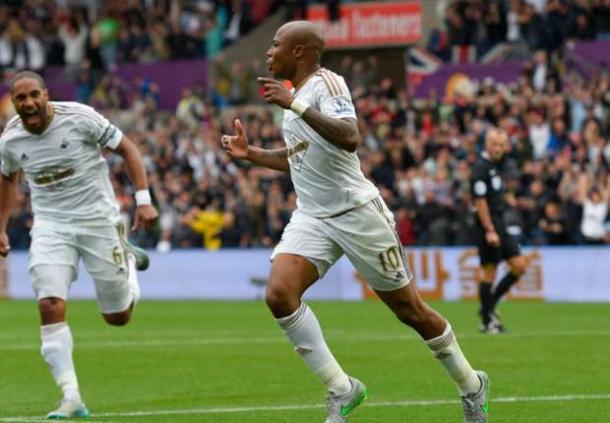 Better for Ayew to leave?
Outside of the club, it could be a good move for Ayew if he does indeed leave the club. The forward scored 12 goals and generally was one of Swansea's better players in a very difficult season.
The Ghanaian had three different managers this season, played in numerous different roles and fought through injuries and still performed to a very high level.
If Ayew was able to find a club that offers him stability in management and can play him in one familiar role for the entire season, he could really flourish.
It probably wouldn't be best for the club if they were to let Ayew leave, unless a substantial bid came in for the forward and they were able to replace him with a greater talent.
If anything, Swansea need to bolster their offensive firepower, not let their stars leave.