The transfer rumour mill is already having it's fun this summer, with Gylfi Sigurdsson to Leicester City one of simply hundreds of bits of gossip circulating.
Though most of the rumours that go around are complete rubbish, they are still enough to worry the fans of the clubs involved, and the above will be one that worries Swansea City's followers.
However, it's not just the supporters of the Swans that are concerned about the potential of Sigurdsson leaving, but the club's players too, with Neil Taylor more than keen for his side to keep hold of the man that makes them tick.
Speaking to BBC Sport, Taylor said: "We are desperate for Gylfi to stay," though that might be easier said than done given how in-demand he could be after a splendid season - especially if he lights up Euro 2016 with Iceland.
Taylor sees no reason for Swansea to sell though, as they don't need the money that they could get for their star man.
"We don't want to be a selling club," the left-back, who is going to the Euros himself with Wales, continued.
"The Premier League means you don't have to do that any more, with the money that has come in."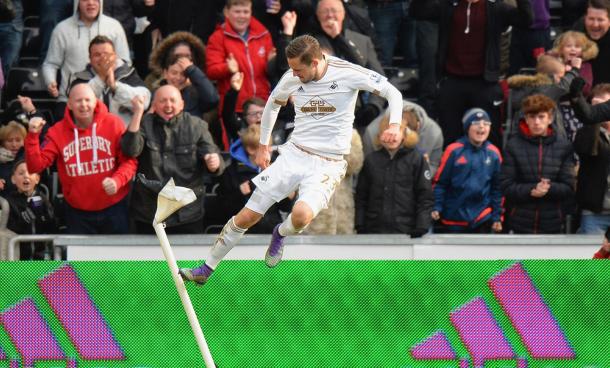 Taylor pleased for Guidolin
As well as giving his thoughts on his Icelandic teammate, Taylor also spoke about his Italian coach, with Francesco Guidolin having been handed a two-year deal in South Wales following the conclusion of the season.
Guidolin came in at the turn of the year and helped steer the Swans to safety, earning himself a contract that seemed unlikely at times such was the momentum gathered by the rumours of a return by Brendan Rodgers.
Taylor himself even said that the former boss would be welcomed back with open arms, singing his praises earlier in the year.
However, the left-back is more than happy with Guidolin in charge having enjoyed playing under him for the last few months.
"He's done his job and got us the results we needed," the Welshman said, adding that the Italian did even more than required too, with the team eventually "finishing mid-table and having a half-decent season."
With his future now certain, Taylor is excited to see what the coach can do now that he'll be able "to plan properly," as in the coming season "he won't just be on a crash course trying to keep [Swansea] in the league."