Amidst countless transfer rumours, Gylfi Sigurdsson has eased the nerves of Swansea City fans today by declaring himself as hopeful for a new contract with the club.
Sigurdsson was the Swans' star player last term, earning himself their Player of the Year award, with him playing a key role as his team avoided the drop in an unlikely relegation battle.
The playmaker has only increased his value in a splendid Euro 2016 campaign with Iceland, the major tournament debutants getting as far as the quarter-finals and Sigurdsson helping them defy all odds.
With the likes of Leicester City rumoured to be interested in his services, stand-out performances from their midfielder in Europe may have left Swansea fans uneasy. However, he has this week expressed his desire to stay at Swansea, not leave for pastures news.
Sigurdsson told the Guardian: "There hasn't been any talks with Swansea yet because of the Euros but hopefully I'll get a call this week."
The midfielder recognises that he and his team were "pretty poor" over the first half of the campaign, but is proud that they got "better" and enjoyed "a very good last few months."
He continued, adding: "I've got another couple of years left on my contract and I'm very happy, I'm not running away."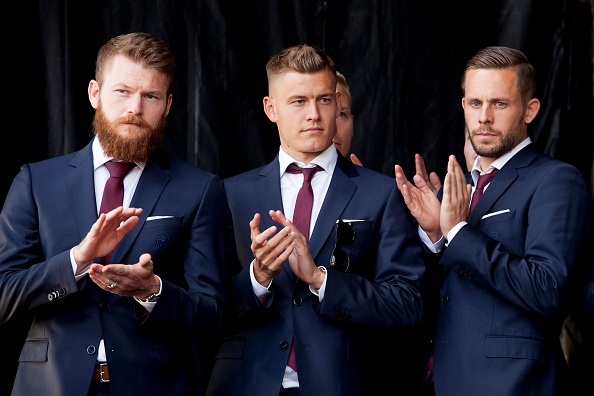 Countrymen deserve their time to shine
The Swansea man isn't the only Sigurdsson linked with a move elsewhere, with international teammate Ragnar Sigurdsson a highly wanted man on the continent after his stellar displays in France.
The defender has in fact been linked with a move to the Premier League, with Leicester and Tottenham Hotspur names alongside his in the gossip columns.
Gylfi Sigurdsson believes that his fellow countrymen deserve a shot in the best leagues too, particularly in England, saying: "All of the [Iceland] players want to play in the Premier League."
He has urged coaches to look at them too, saying that if anyone is considering taking a "chance" on one of the history-making Icelanders, he would "definitely say give them a go."
With there well over a month until the season starts, and near enough two months until the transfer window closes, we could well see some of Sigurdsson's fellow countrymen join him in the Premier League yet.