Swansea City kick-off their pre-season schedule tonight against Charlotte Independence, and new signing Mike van der Hoorn cannot wait to get going.
Van der Hoorn made the switch to South Wales last week, leaving Ajax, and says that he "can't wait to wear the Swansea shirt" already.
Speaking to the club's official website, the Dutch defender hinted to why he chose to move to the Liberty Stadium this summer, saying: "Training has been good, but there is nothing like playing a game. That's why I've come to Swansea.''
Van der Hoorn made just 15 league apperances for Ajax last season, starting only 13 of their 34 Eredivisie games, and moves to Wales looking to increase his playing time.
"I'm really looking forward to representing the club for the first time in a match situation," he continued, with that chance potentially coming in North Carolina this evening.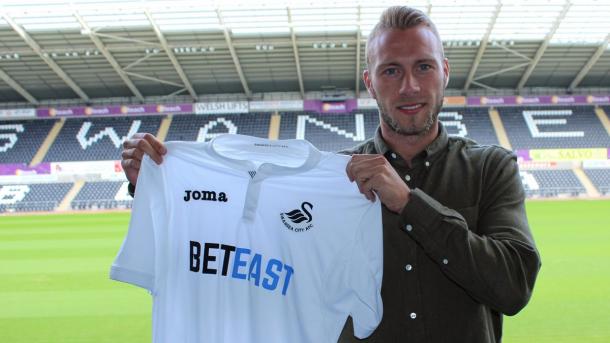 Van der Hoorn settling in
It's been a full week since van der Hoorn was officially announced as a Swansea player, and it's been seven days that he has enjoyed, even with the "hard" pre-season training.
"I've probably done a lot more running than I would have in Holland," the defender said. However, he believes that he has not only "coped," but "competed well" with his new teammates, hoping this will put him "in good stead" going into the new season.
Away from the football, van der Hoorn thinks he is not only settling into the training regime, but into the team too, saying the players have "made it easy" for him to do so.
"They are a great bunch and they've welcomed me in with open arms," he said.
The former Ajax man believes that he has been helped by two fellow countrymen too, with Dutchmen Leroy Fer - another new signing - and Kenji Gorre in the squad that have travelled to the USA.
"I'm rooming with Leroy and he's looking after me," van der Hoorn said, adding that he is enjoying "getting to know everyone" as the pre-season campaign gets underway.
"That's the benefit of coming on tour together like this," he concluded.