After being one of the leading figures in Francesco Guidolin's side last season, will Andre Ayew be moving on this summer?
Bafetimbi Gomis has finally left Swansea City and joined French Ligue 1 outfit, Marseille on a season-long loan. During his time at the Swans he made 71 appearances, scoring 17 goals.
Many fans will hope that Gomis is never seen in a Swans shirt again, but he did score some important goals for the Swans. In particular, the winner for Swansea against Manchester United at the Liberty Stadium last season.
Marseille will apparently pay all of Gomis's salary during the loan period. This will come as quite a surprise for Swansea's faithful, as the club were expected to pay 40% of Gomis' salary.
Gomis, as well as Eder and Alberto Paloschi, have now all moved on to pastures new. But what about the future of Andre Ayew? The Ghanaian international is looking forward to Swansea City first Premier League game at Burnley on August 13th.
Positive statements
Speaking to Swansea's Official site Ayew said that, "It's always important to win because when you are a team, you want to win always." The Ghana international continued, "It's good for us that we have got another victory, but what is more important is to play our game and to feel that we are ready physically and technically."
He added, "We feel like we are getting there. Every game in pre-season we try to win, but what really matters is to get a win when the league season starts."
Ayew says focus is August 13, adding that: "We are still preparing ourselves - we are still getting ready for the new season at this stage."
He said: "We are not there yet, but we will keep working hard to get to 100 per cent. Swindon was a good pre-season game for us. Physically, I can feel we are getting better."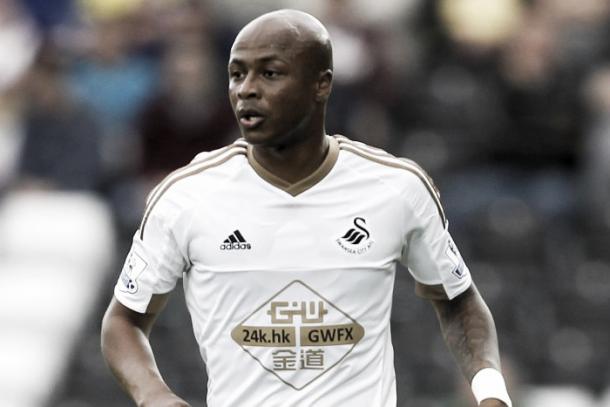 West Ham still sniffing around?
West Ham have a lengthening injury list currently and were interested in signing Ayew before he joined the Swans before the start of the last Premier League season. Ayew would be a major loss for the Swans and he is thought to be available for around £16m. Swansea manager Francesco Guidolin is a big fan of Ayew.
Speaking to The Sun in a recent interview, Guidolin said that he "hopes" to be able to keep Andre Ayew at the Liberty Stadium this summer, but refused to give any guarantees: "Andre is a good guy and a good player, I hope he stays with us but I don't know."
He added, "It is important to keep him, but it is not my job, my job is to train and to get the team to play well and to get good results."
Tello time
If Ayew does leave before the season starts, it's thought that the Swans will turn their attention to Barcelona's Christian Tello.
Tello, plays as a winger or a forward and was on loan at Italian club Fiorentina last season. Tello is also a target for Southampton, whilst Fiorentina and AC Milan also would be interested in keeping the player in Italy.
Kenji Gorre, surprisingly, is the latest Swansea player to leave on loan, after he signed for Northampton Town until January 2017. Speaking to BBC Radio, Northampton boss Rob Page said about Gorre: "We'll have to be patient, he's not the finished article. If he was, he'd be playing in Swansea's first team"
Frustration is now beginning to tell on the Swansea supporters. With just over two weeks left to the start of the Premier League season, Swansea City have so far failed to add any significant signings to appease their fans.