Swansea City hope to sign their second striker from Spain in a week, as Borja Baston is set to join the Premier League side for a club record fee of £15m.
At the same time, the Swans are due to lose Andre Ayew to West Ham for a fee of around £20m, which apparently could rise to £25m depending on the number of appearances Ayew makes for the East London side. West Ham have agreed a fee with Swansea but they will still have to wait for Swansea to complete Baston's signing for the transfer to be completed.
Who is Borja Baston?
He was born in Madrid in 1992. He is 6'3 tall and his real name is Borja Gonzalez Tomas, but he is known as Borja. He has only made one first team appearance for his current side Atletico Madrid which was back in 2010. Unfortunately for him, he had a very bad injury just after this game and then spent the rest of his career being loaned out to other Spanish teams. During his loan period with Deportiva La Coruna, he scored 14 goals to help his side win promotion to La Liga from the Segunda Liga. The following season he scored 23 goals for Real Zaragoza in the Segunda Liga. But last season in La Liga he scored 18 goals for Eibar in a struggling team.
Francesco Guidolin is excited by Borja's imminent arrival
After Saturday's friendly 1-0 win against Stade Rennais at the Liberty Stadium, Guidolin said in his post match conference that:
"I think it (Borja signing) is close, I think it is imminent," said Guidolin.
He went on to say that although he "was happy with the squad before", he is now "more happy because with Fernando Llorente and Borja Baston I think we have signed two good players, two very important players."
The manager, entering his first full season with the Swans commented that "I am happy with my group, we are working hard and well and I have no problems. It is the selections that will give me the problems. This is a good period for us."
Guidolin is unsure whether Borja is fit or not to play in Swansea's first Premier League game at Burnley's Turf Moor, as he is still recovering from a broken arm, which he suffered during training with Atletico last month.
"Baston suffered a left ulna fracture during exercises" the club's medical services said in a statement.
"The striker sufferd from an oblique fracture to the distal third of the left ulna," the club said on its official website. "He requires surgical reduction," the statement added.
With Fernando Llorente already at the Swans, this is an exciting time for the Welsh club. Baston's arrival will add to the Spanish contigent of players at Swansea, with Jordi Amat and Angel Rangel also at Swansea.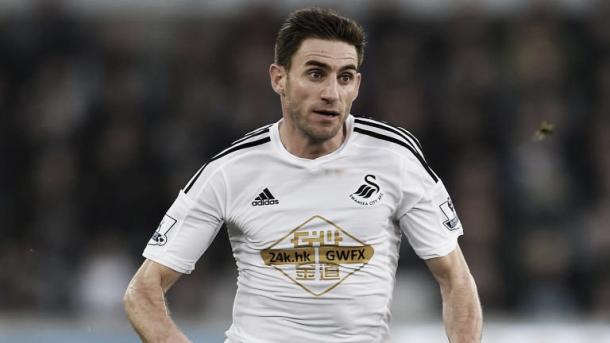 Rangel signs contract extension
Angel Rangel, incidentally, has today signed a one-year extension to his Swansea contract which will keep him at the club until the Summer of 2018. Now , 34, Rangel has been at Swansea City since 2007 and made 27 appearances for Swansea last season. Rangel said in an interview at the Liberty Stadium this morning that:
"It was a very easy decision to sign the contract - we did not have to talk for long. This is my home now."
"This contract will take me to 11 years here and I am so pleased with that. I have a Welsh family and I feel as though I know the city and the country now."