Fiorentina are unbeaten in five in the league. Tottenham Hotspur are on an equally good run, but how the game will pan out is the main question.
League success
Fiorentina have lost just six times in the league this season and appear to be high flyers in the Serie A, behind only Juventus and Napoli. Where they perch now would see them into UEFA Champions League football, with qualification beforehand. La Viola have enjoyed some emphatic victories this season, winning twice over Internazionale and sustaining a wonderful win on the first game of the season against AC Milan.
However, they are yet to face the league leaders for the second time this season. The game, which occurs in April, could potentially dent their season very badly. Withal, this should not be the Italian clubs priority, what they need to focus on is a very in-form Tottenham side this Thursday, who will be prowling once again for victims.
Furthermore, in general Spurs should consider this Fiorentina side to be an attacking and hungry side who will definitely want a result out of this match. Granted, the form of Spurs' back line this year has been phenomenal, and should keep their attack quiet.
Tottenham will pray that what occured last year will not crop up again. The two games finished with Viola progressing ahead after a win in Florence.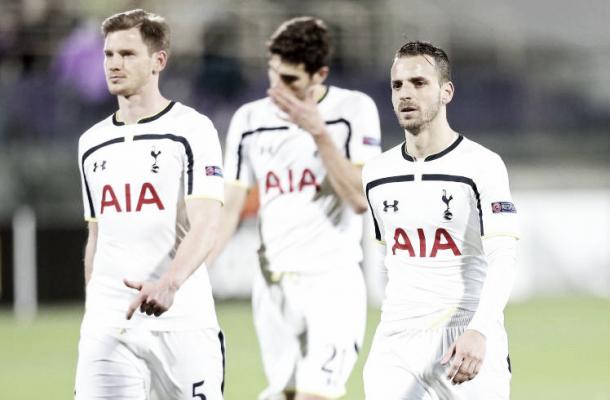 Key players
Nikola Kalinic and Josip Licic have easily been the stand-out players this season by far. Netting 23 goals between them in all competitions, they should be a pair that Kevin Wimmer and Toby Alderweireld should keep a close eye on.
Never mind the prolific abilities within Licic and Kalinic in attack, the defence has proven to be rather solid this season, alongside the occasional slip up now and then. They appear to have conceded and lost to teams with strength in attack, such as Juventus, Lazio and AC Milan. Therefore, a Tottenham side with bags of capability and depth in the attacking areas should have the mere fortitude to break down the defence.
How they got here
Fiorentina were placed in a debatably average group to start the competition, amidst the likes of FC Basel, Lech Poznan of Poland and Belenenses of Portugal. They climbed out finishing second place to the Swiss giants Basel, facing up against a team that bossed their group - Tottenham.
They managed to escape with 10 points, beside two shock losses to Lech Poznan and Basel – both at home. Do Spurs see a chance to defeat them in Florence on Thursday?
Spurs have shown numerous brilliant away performances, and could see this match as a wide opening to grab the victory.