20:00. Unfortunately, that's all we've got time for tonight as far as Tottenham goes. However, the football doesn't stop there, and you can now cross over here to watch Liverpool take on Augsburg in Germany. These two teams will meet again in a week's time, to decide who progresses to the last 16, and we'll be right there with them.
19:57. Other scores from around Europe: Saint-Etienne 3-2 Basel, Borussia Dortmund 2-0 Porto, Anderlecht 1-0 Olympiakos, Sevilla 3-0 Molde, Villarreal 1-0 Napoli, FC Midtjylland 2-1 Manchester United.
19:55. You'd back Pochettino's men to finish the job at White Hart Lane next week, given their impressive home record, and the fact that they might field a slightly stronger team.
19:52. Spurs will feel that they deserved more than a draw given their extremely impressive first half performance, but considering they made six changes, getting a score draw away from home is something that they'll be undoubtedly pleased with.
Full-time: Fiorentina 1-1 Tottenham Hotspur (Chadli, Bernardeschi)
90: Three eminutes of stoppage time signalled, as Zarate sends an audacious volley narrowly wide from distance.
89: So close! Spurs in trouble form a set-piece again, Gonzalo getting first to a corner, and his header flashes across goal and narrowly wide. What a chance for Fiorentina to win the game.
88: Alli going for the spectacular! Trippier gets down the wing well, crossing for the youngster who sends an overhead kick over the bar on the volley. Great technique, just a little too high.
85: Spurs fans have their hearts in their mouths as a dangerous looking corner comes in from La Viola, but Wimmer is there first to clear.
79: Chadli off, Dier on. That's a very defensive substitution from Pochettino, settling for the draw and away goal, perhaps?
77: Manchester United are 2-1 down in Denmark, whilst Spurs are on the back-foot here. Not going as well for the English teams as it was earlier, when both went 1-0 up away from home.
68: A yellow card and a substitution for Spurs. Dembele goes into the book, whilst Kane comes on for Son. Just over 20 minutes to go, will either side find a winner?
62: Fiorentina making changes, Ilicic and Kuba off for Badelj and Kalinic. Spurs had a penalty shout as Alli was hauled down soon after the resumption of play, nothing given.
58: Bernardeschi goes for goal with a fairly weak looking curling effort from distance, only for the ball to harshly deflect off Ryan Mason and loop into the top corner of the net.
GOAL! Fiorentina level up, it's really unlucky for Spurs.
53: Chadli twists and turns in the area, but can't add to his penalty as Tatarusanu parries away a fairly weak effort. Nothing comes of the resulting corner.
47: Spurs have the ball in the net, but it's not going to count. Son heads in from Eriksen's ball into the area, but he'd peeled off to early and was offside.
45: Back underway in the second half. Dembele has replaced Carroll for Spurs.
18:55. Elsewhere in the Europa League's 6PM KO's, the scores are: Saint-Etienne 2-1 Basel; Borussia Dortmund 1-1 Porto; Anderlecht 0-0 Olympaikos; Sevilla 1-0 Molde; Villarreal 0-0 Napoli; FC Midtjylland 1-1 Manchester United.
18:47. Spurs have been really comfortable so far, and whilst they won't yet feel they've got a foot in the last 16, might agree that they're certainly dipping their toes in. A one goal lead seems about fair at this stage, which they've got thanks to Nacer Chadli's penalty, but they could finish the tie off with a couple more goals tonight.
Half-time: Fiorentina 0-1 Tottenham Hotspur (Chadli)
45: Great opportunity towards the end of the half for Fiorentina, wasted! The ball finds its way back to Zarate on the edge of the area, but he doesn't get over the ball, firing over the bar. Also, Manchester United's lead didn't last long, it's now 1-1 in Denmark.
40: Elsewhere in Europe, Memphis Depay has scored his first goal in 2016 to put Manchester United a goal to the good away at FC Midtjylland.
37: That's a really composed penalty by Chadli, who strolls up to the ball before sending the 'keeper the wrong way with a low spot kick.
GOAL! Chadli tucks it away!
Penalty to Tottenham! Davies breaking into the area, Tomovic slides in and takes him out.
32: So close for the hosts! Alderweireld ducks under a cross, but Bernardeschi can't get the right connection at the far post to make it 1-0. Zarate was onto the rebound, but could only prod an effort wide. Big let off for Mauricio Pochettino's men.
30: Handbags! Alli has a little kick out at Tomovic, who reacts angrily. Fiorentina players surround the referee, and Alli gets a booking. He's probably lucky to only have got a yellow, that was petulant to say the least.
26: Great effort from Eriksen! He gets the ball on the turn, shooting down the centre of goal from 30-yards-0ut, but it's the dip on the ball that forces Tatarusanu into a good save. The deadlock yet to be broken in Florence.
22: Spurs applying pressure again in the penalty area, Son looking to squeeze his way through before eventually being crowded out. The Lilywhites have made a very assured start to this tie, and you'd back them to score first.
17: Alli gets taken down when passing, but the referee signals advantage as the ball breaks for Son, who can only run the ball into a crowd of players. Strangely enough, no yellow card given when play breaks down.
13: There's the first sight of goal for La Viola, Toby Alderweireld getting in the way of Kuba's weak strike before it reached the goal.
11: Tripper with an excellent ball behind the defence to Chadli, but the Belgian fails to control. Nothing would have come from it anyway, the flag correctly up for offside.
8: There's an early change being made here, of boots. Ilicic deeming that his footwear isn't suitable, putting a new pair on.
3: Dele Alli looking to show his talents early on, dancing past a couple in the area, before producing one trick too many and being dispossessed. It has to be said, the stadium is fairly empty, which is resulting in a flat atmosphere. Perhaps the lack of a partizan home crowd will aid Spurs' quest for a positive result?
0: Kick-off
17:55. Not long now until kick-off, the two team are out and shaking hands. Six changes for the Spurs team from the one that beat Manchester City, will they have the same result?
17:15. And the Spurs line-up: (4-2-3-1) Vorm; Trippier, Alderweireld, Wimmer, Davies; Carroll, Mason; Eriksen, Alli, Son; Chadli.
17:10. Team news time! First up, the hosts Fiorentina: (4-2-3-1) Tatarusanu; Tomovic, Gonzalo, Astori, Alonso; T. Costa, Borja Valero; Kuba, Ilicic, Bernardeschi; Zarate.
Each side comes into the game having won their weekend fixture by the same scoreline. La Viola were a goal behind at home to Inter, but came storming back to win 2-1. Away from home, Spurs gained title momentum in a heavyweight clash with Manchester City, Christian Eriksen's late goal giving them a 1-2 win at the Etihad.
These two teams met eachother at the same time last year, in the same round of this competition. The only difference being, that the first leg was held at White Hart Lane. Roberto Soldado opened the scoring on that night, before La Viola pegged the hosts back to earn a 1-1 draw. It was all Fiorentina in the second leg, as they won 2-0 to progress. It's undeniable that the Londoners have come on leaps and bounds since then though, and will fancy themselves to progress.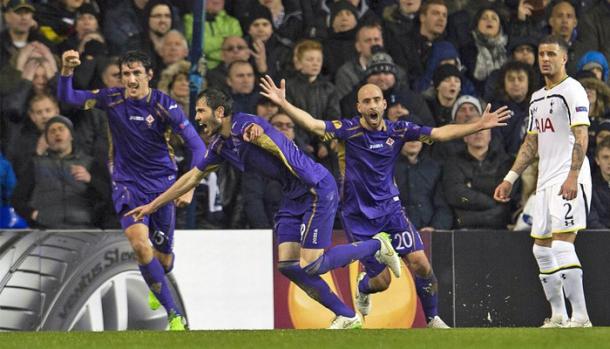 Tottenham are having an equally successful, if not better, league campaign. They're second in the Premier League, which has four Champions League spots, and they're 10 points clear of Manchester United in fifth. Spurs may have title ambitions though, as they're only two points behind table-toppers Leicester City, a gap that they could definitely bridge with 12 games remaining.
Fiorentina currently occupy the third and final Champions League place in Serie A, sitting two points ahead of fourth placed Roma, four ahead of Inter Milan. Whilst they're unlikely to catch either of Juventus or Napoli above them, they'll fancy their chances of clinging on to a top three finish, so might prioritise their league form over European exploits.
As previously mentioned, this pair are amongst the strongest of the teams still in the competition, and could very well end up winning the whole thing. The prize on offer, aswell as a European trophy, is a place in next season's Champions League. It does remain to be seen though, how seriously each team will take the competition, due to their impressive form in the league, that could see them qualify for Europe's Premier Club Competition through a domestic finish.
So, European competition is finally back in action, resuming for the knock-out rounds after the group stages ended back in December. The Champions League roared back into life on Tuesday, but tonight it is the return of the Europa League, a competition that has had it's pedigree boosted by featuring a number of top teams this year. As well as the two teams on display in this game, the likes of Borussia Dortmund, Liverpool, Napoli and Manchester United are in the last 32, with the race to win the trophy wide open.
Hello there, and welcome to this evening's live minute-by-minute coverage of AFC Fiorentina - Tottenham Hotspur in the Europa League. We'll be providing detailed updates of proceedings here on VAVEL UK, as the two teams face off in the first leg of their round of 32 tie. Kick-off at the Stadio Artemio Franchi is set for 6:00PM BST, so stay with us as we get the team news and more ahead of kick-off in this one.