Thanks to their draw in Florence, Tottenham Hotspur now host Fiorentina in an advantageous position after securing an away goal against La Viola.
Tottenham dominated the first half of the game as Fiorentina hardly got into the flow of play. Yet Spurs struggled to find the back of the net until the 37th minute when Ben Davies was brought down in the area and they were awarded a penalty. Nacer Chadli calmly slotted home from the spot.
The tie saw a potential sending off incident as midfielder Dele Alli appeared to kick Nedad Tomovic, once the ball had gone out of play. Alli recieved a yellow card for the incident, but many believe he deserved red.
Fiorentina fought back in the second half and were rewarded just before the hour mark when Federico Bernardeschi's shot from 20 yards out looped into the back of the net after a deflection.
Mauricio Pochettino "confident"
Mauricio Pochettino praised his side's first half performance saying, "Until we conceded we played much better and dominated." He also praised Fiorentina's goal scorer Bernardeschi labeling him a "great talent".
However, Pochettino is only looking forward commenting, "The tie is open now, our aim is to get to the next round. We know it's tough but we are always confident". He later added," Now we have to prepare for the next game in the FA Cup".
Mason pleased, whilst Sousa hails Spurs
Tottenham academy product Ryan Mason captained his boyhood side for the first time in today's match. Talking to SpursTv after the match he labeled the captaincy as a "proud moment for [him] and [his] family" as well as it being a "memory [he'll] keep for a long, long time." Mason added that the result was "fair" and stressed the importance of the away goal and the "confidence" going into the next match.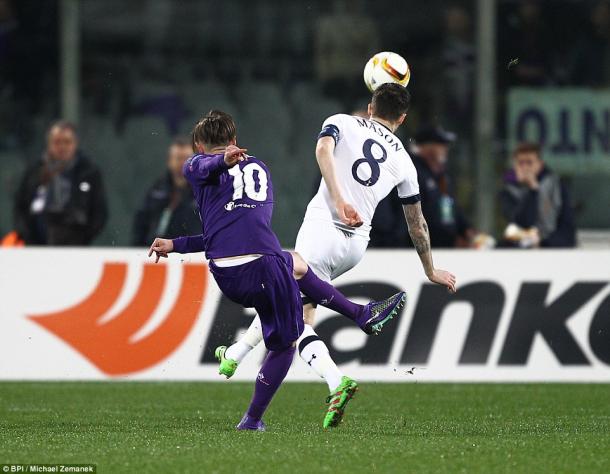 Italian newspaper, La Gazzetta dello Sport, reports that Paulo Sousa praised the North London club's "quality, technicality and physicality". However he felt his team "grew" as the game went on and felt his side cause "difficulties" to Tottenham. Commenting on the upcoming fixture, Sousa commented that he expects Tottenham to "play in the same way".
The two teams will come head-to-head in the second leg of the tie next Thursday. Before this Tottenham will face Crystal Palace in the FA Cup on Sunday.