An unusually sloppy performance from Mauricio Pochettino's men saw them crash out of the FA Cup after Martin Kelly scored his first goal since 2011.
The performance was like a flash back to the past as fans looked on in disbelief as Tottenham failed to score no matter what they tried.
The defending wasn't anything to marvel at either, in what was a day to forget for the title challengers.
Unlucky in front of goal
Tottenham dominated the game. They saw majority of the possession, more shots at goal and more corners. Yet the all-important goal did not come. Spurs came within centimeters of scoring on numerous occasions throughout the game. Two of Dele Alli's shots were cleared off the line; one even rolled across goal but never crossed the line.
Harry Kane drew multiple important saves from Crystal Palace goalkeeper Wayne Hennessey, as did Christian Eriksen when he made his substitute appearance. With every shot there was a post, block or save keeping Tottenham out of the goal.
Undisciplined defence
An unorganized defense is definitely not a phrase used often to describe the Lilywhites this season. Having conceded the least amount of goals in the Premier League, the performance today was out of character.
The shambolic defending from Kyle Walker in the 14th minute saw 'keeper Michel Vorm have to scramble back to his line and palm Walker's goal-bound header out for a corner. Spurs looked on the verge of going a goal down in the early stages of the game had Vorm not been alert to save an own goal.
At times the defenders didn't know who to mark, with more than one player covering a Palace attacker at a time and so leaving another wide open. A prime example of this was in the build up for Crystal Palace's goal.
While Wilfred Zaha was in possession he saw three Tottenham players surrounding him, while Martin Kelly, the goal scorer was left unmarked.
Tottenham's defense repeatedly struggles with long balls sent by the Eagles and were lucky that none of them cemented into clear-cut chances for Palace.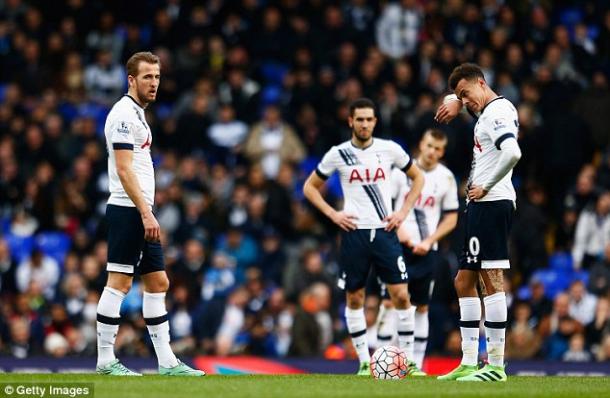 Where did it all go wrong?
Was this problem due to the lack of depth in this particular position? Jan Vertonghen and Toby Alderwiereld have formed an impressive defensive partnership at Tottenham. Since Vertonghen's injury Kevin Wimmer has stepped into the role with little difficulty, in addition Eric Dier has had a great season playing as a defensive midfielder in front of the two.
Therefore, looking at the center back partnership before the game, it didn't seems as much of a problem as it seemed to be; especially with experienced full-backs Danny Rose and Kyle Walker alongside them. However even though these players have all regularly played along side each other, they haven't in these positions.
Dier is arguably rusty in the center back position but due to lack of depth he has had to play here when Alderweireld needs a rest. This has meant that Dier has featured in every game apart from one - this was due to suspension. Having to play Dier out of position additionally shows how crucial his role as a defensive midfielder is to the Lilywhite defense, especially as there was little cover by the midfielders in front leaving the defense vulnerable.
Furthermore the lack of depth has arguably left Tottenham dependent on new signing Alderweireld, but his calm composure in games is a factor towards this. It should only be a minor blip in an otherwise excellent season for Spurs, who can now put full focus on the Premier League and Europa League.