Evolution is natural. Charles Darwin depicted it as a process of natural selection, during which favourable characteristics reside over weak ones.
Such is the process which is also involved in football and has been very prominent in the last decade. Since the advent of Pep Guardiola's managerial career and the dominance, which seemed to end at the 2014 World Cup, of his native Spain, football, tactically, has experienced transition.
Change in modal formation
Transition from a system of team layout which was commonplace amongst the majority of teams for the best part of a century, the 4-4-2, to a mutated form of this much-loved system. It is referred to often as a 4-3-3, or even as a 4-5-1, such is the adaptablity of a system which now dominates world football.
I choose to refer to it as a 4-2-3-1, and is laid out similar to the model below.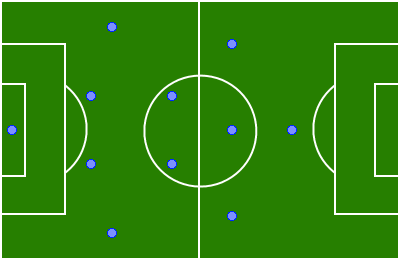 Unsurprisingly, adaption to this new system has come with a change in style of play. As a consequence of the new style many believe that the traditional wideman, or winger, which used to operate in 4-4-2 systems, has fallen from prominence.
This comes as a great disappointment to many who are supporters of traditional wing play, which they believe to be a fool proof way of creating chances, as well as to many who marvelled in the surging breaks made down the wing by the likes of Andrei Kanchelskis.
Transition for Tottenham
However, many sides, such as Tottenham Hotspur, have now deposited with the concept of traditional wingers and bought into the fashion of using so-called 'inverted wingers' or 'inside forwards'. This is demonstrated not only by the plethora of this ilk of player that Spurs have at their disposal, Nacer Chadli, Heung-Min Son and Josh Onomah are just three, but also by the manner in which players demonstrating traits of traditional wingers have left the club - both Aaron Lennon and Andros Townsend have left the club since Mauricio Pochettino's arrival in 2014.
Inside forwards work on the basis of playing a much bigger role in build up play than traditional wingers do. While a winger is focused around the art of beating his opposite full back, the inside forward plays a more intricate role.
Instead of staying wide, the inside forward tends to drift inside, looking for the ball and looking for opportunities to feed the ball through the opposition in more compact circumstances, or to even shoot themselves. In essence, they act as both an attacking outlet but also as a playmaker, as they look not only to create but also to act as a shadow striker in many ways.
Strike partnerships dying out
This points very clearly to one of the reasons why they have become preferable, which is the emergence of many teams preferring lone strikers. Gone are the days of prolific strike partnerships, like Shearer and Sutton, with instead partnerships between the likes of Harry Kane and Dele Alli or Erik Lamela emerging, as attacking midfielders become the accomplices of a lone striker.
This change has emerged naturally as defending in the game has progressed. Strikers not only need to be strong, quick but have alsoan eye for goal, and this is more the case than ever due to tireless efforts being made by coaches in organising defensive to nullify strikers. Hence, inside forwards are preferable as they not only can play a bigger role in creating for the striker, but also being able to contribute by drifting into the are normally occupied by a second striker.
Furthermore, with monopolisation of possession being more popular than ever, since the rise of the fantastic Barcelona and Spain teams of the last decade, having inside forwards who can drift in and receive the ball is preferable to having wingers instructed to 'hug' the touchline. Additionally, having a more dynamic system, such as the 4-2-3-1, allows for teams to have a more compact and defensive bank of five when they are without the ball.
The question remains however whether there is still a role for classical wingers in football.
Evolving role of full back
An interesting point to examine is that of the role of full backs now that inverted wingers are being favoured. Looking at the example of Tottenham Hotspur, the roles of Kieran Trippier and Danny Rose, for example, are very attacking and have been likened to those of wingers. Hence, actually the role of wingers has not evaporated from the game but instead, in several cases, has been adopted by attacking full backs.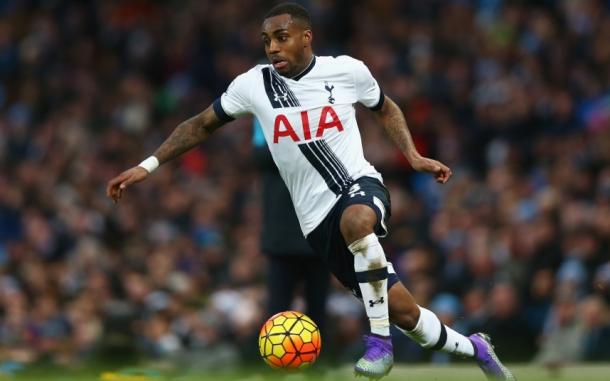 Moreover, whilst wingers may not be used by many sides, their skills such as crossing and beating one's opposite man have by no means vanished in modern football. A utopian situation would involve wide men, who are good two touch footballers and adept in build up play but who also have prowess in getting in behind defensives, combining the two roles. Only the great wingers have mastered this, such as the mesmerisingly brilliant David Ginola.
Look at the example of the current Barcelona side, who are arguably the team of the last few decades. Their deadly midfield trifecta of Luis Suarez, Neymar and the infamous Lionel Messi, all possess the skills to act as both wingers and inverted wingers. They are creative, clinical and incisive, and it is each's versatility, in being able to combine both the qualities of wingers and inside forwards which has made them so dangerous.
This versatility gives Tottenham in particular reason to be cheerful. With the likes of the promising Dele Alli and the mercurial Christian Eriksen amongst others, they have players keen to participate in as many passages of play as possible and this makes the bank of three in this 4-2-3-1 formation fluid and hence versatile. It allows Spurs to stretch teams and create openings for talisman Harry Kane and the attacking midfielders who assist him, and for this reason Spurs have looked particularly dangerous this season, and look set to for the forseeable future.