In possibly the biggest North London derby to date, Tottenham Hotspur had the chance to go top of the league. Whereas Arsenal had to opportunity to close the gap on Spurs and make an even bigger statement in this season's title race.
Both teams were unable to capitalise on the occasion as they saw themselves walk out of White Hart Lane with a share of the points, drawing 2-2. Here's how we rated the players.
Goalkeeper and defence
Hugo Lloris: The captain Hugo Lloris is a reliable as can be. Lloris is very reliable for Tottenham and produces world class slaves every single game he plays. Lloris made some key saves this game, in which kept his team in the game, however, you could put him at fault for Arsenal's second goal. Lloris was unable to palm away a bobbling shot from Alexis Sanchez to tie the game up. 6
Kyle Walker: Walker offers something that Kieran Trippier cannot. Blistering pace. That pace allows him to add an extra body in the majority of Spurs' attacks. Walker had a solid game and due to a lot of possession Spurs had, he found himself used to being in the Arsenal third. Walker was close to assisting Erik Lamela in the first half with a low cross and showed great attacking threat in today's game. Solid performance overall. 6
Toby Alderweireld: Alderweireld has undoubtedly been one of the most impressive Spurs players this season. After coming in from Atletico Madrid, he has settled in well with fellow Belgian Jan Vertonghen, as well as Kevin Wimmer. Alderweireld managed to get on the score sheet with an excellent finish to put Spurs level. 8
Kevin Wimmer: The Austrian has come to grips with the Premier League and has been exquisite within Pochettino's success after filling in Jan Vertonghen's spot. Wimmer found himself in one of the biggest games for Spurs, and his first real North London derby. He was excellent at keeping the defence tight and looked solid as always. 7
Danny Rose: Like Walker, Rose is a more attacking threat going forward compared to Ben Davies. Rose looked to go forward at a fast and fluent pace throughout the game, and also managed to get the ball into the box several times. Rose was replaced by Davies in the second half surprisingly, speculations are it could have been due to injury. 6
Midfield and Attack.
Eric Dier: Dier had a very sophisticated and vital role to fulfil today, and done a respectable job at that. All he had to do was make sure Mesut Ozil wasn't allowed to control the game, in which he did. Dier was lucky to have stayed on the field after pulling Oliver Giroud back needlessly. Luckily escaping a second yellow from the referee, which sparked some controversy after the game. 6
Mousa Dembélé: After being put back into the starting eleven straight after recovering from injury, it showed how much of a value he is in the midfield in the eyes of Mauricio Pochettino. Dembélé wasn't expected to make fireworks as he was returning in such a fast paced and important game, as he was seen substituted in the second half, making way for Heung-Min Son. 6
Erik Lamela: Lamela is such a value to Pochettino's side. He brings a high intensity to the squad, upping everyone else's game around him. He gave 100% out there today and worked his socks off. He was rewarded for this with an assist to Tottenham's first goal, as he was able to touch on the corner to Alderweireld who slotted home. Lamela was replaced for Ryan Mason in the second half, getting a well-deserved rest. 8
Dele Alli: Wasn't at his best today. The game seemed to bypass him, which you don't usually see from the youngster. Alli had a decent chance early on, where he was shut down in the box before getting a shot off. After failing to make an impact, he was shuffled around into a more defensive position, playing slightly deeper after Heung-Min Son came on. It is safe to say Dele Alli has seen better days. 5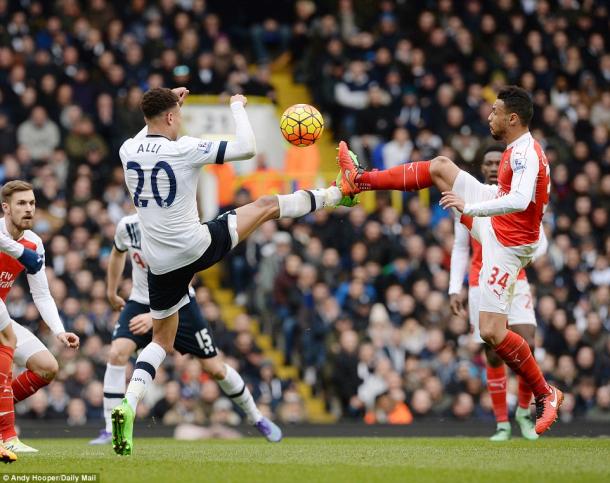 Christian Eriksen: Eriksen saw a lot of the ball this game, and a fair amount of set pieces went through him. The Dane got a lot of touches on the ball and had quick feet to release the ball in tight situations. Eriksen was able to deliver a corner ball, which resulted in Tottenham's equaliser. He didn't make any sparks today, but he put in a hardworking shift for the side and was unlucky not to get a goal after his long-range effort was saved by David Ospina. 6
Harry Kane: The striker went into this game without a goal in four games. Kane is known to thrive in big games, especially the North London derby. He had scored two goals in this same fixture last season and scored the one goal in the away game this season, in a 1-1 draw. Struggling in the first half, he had to come deep for the ball, however, he showed a moment of brilliance as he scored an outstanding goal. Kane picked up a loose ball at a tight angle outside the box and was able to bend on into the far post. Ospina was beaten all day long. His goal was well deserved and hopefully, will give him the confidence he needs going into the upcoming fixtures. 8
Substitutes.
Ryan Mason: Mason came on midway through the second half, for Lamela. It saw him sit into a central role and look to get on the ball and dictate the game the best he could. He created nothing magical or eye opening but had a solid game in the middle of the park and a respectable performance. 5
Ben Davies: This wasn't a planned substitution for Mauricio Pochettino, but one he obviously felt he had to make. Either to an injury to Rose or whatever, he was thinking, Davies was brought on late on in the second half, in a stage where Arsenal were creeping back into the game and didn't get the chance to make any movements forwards. Nothing special, but there was nothing he could have done to stand out after coming on that late. 5
Heung-Min Son: Son came on in the 82nd minute and like the midweek game made basically zero contribution to anything in the game. It was too little time for him to have a fair and justifiable rating, therefore, he cannot be given one. N/A