The North London Club continued to push for their first Premier League title in 50 years with a 2-0 win over a deflated Aston Villa.
Harry Kane opened the scoring for Tottenham Hotspur in the dying minutes of the first half, which saw the Lilywhites hit the woodwork twice and produce a number of good saves from Villa goalkeeper Brad Guzan. The Tottenham academy product then scored just three minutes into the second half to double Spurs' lead.
Tottenham were comfortable through out the game as Aston Villa hardly had a chance to get into it, so much so that the score line flatters Villa as the North London club should have finished more chances.
Harry Kane and Dele Alli demand Euro call up
Last season many people wrote Harry Kane off as a one-season wonder, and little even knew who Dele Alli was, let alone predicted he would have made the impact on the Premier League that he has. Yet Kane's double today put his goal tally for this season up to 19, making him equal to Leicester City striker Jamie Vardy at the top of the listings. Last season Kane managed 21 goals in England's top division, and with eight games left looks on course to beat that.
Alli provided Kane for both his goals today and his two assists, brought his tally for the season up to eight, making him the highest English player in the listings. His free kick today showed his creative instinct as he took the set piece quickly after seeing Kane's run and allowing him to go through onto goal. The position of the free kick would have been a prime area for team mate Christian Eriksen to have a shot at goal yet Alli ignored this and consequently gave Tottenham the lead.
Surely their performances and importance to Spurs this season calls for Roy Hodgson to pick them for the European Championship.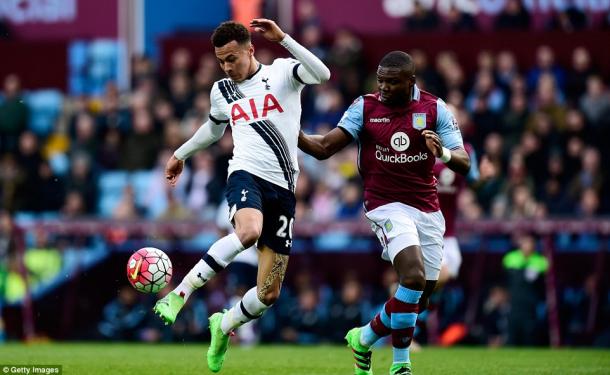 Was Pochettino right to rotate on Thursday?
Today's score line suggest that he was right to rotate his squad on Thursday night when Tottenham travelled to Germany to face Borussia Dortmund. Tottenham looked fresh and relaxed going into the game today but that could equally have been a result of how little Aston Villa troubled the North London club.
The Claret and Blues are currently fighting for survival and as the weeks progress they look more and more likely to be spending next season in the Championship. Villa have only won three league games all season and to be frank only a disaster on Spurs' behalf would have seen them fail to win the game.
On the contrary, Dortmund were Tottenham's biggest challenge of the season so far. When the two clubs were drawn against each other it looked more like a Champions League tie and so would allow Tottenham to prove that they are ready for Europe's elite competition. The game could have been a thrilling end-to-end battle between two inform teams had Mauricio Pochettino chosen to play his strongest squad.
Taking these two points into account it would have made more sense for Pochettino to play a stronger team against BVB and a slightly weaker one against Aston Villa. There is no denying that four games in two weeks is challenging and tiring for players who need a well deserved rest, so the Argentine would have had to rotate at some point.
Rotating on Thursday left Tottenham with a mountain to climb in the Europa League while it arguably wouldn't have made a difference in the Premier League. Yet with the battle at the top so open at the end of the season the decision could have been the right one.
Tottenham will host Borussia Dortmund in the Europa League on Thursday before Bournemouth visit White Hart Lane.