This season it has been a common sight to see Tottenham Hotspur players rush straight to applaud the fans after the final whistle.
The connection is something everyone at the club can feel, and one which midfielder Eric Dier believes has added "extra motivation to do even more."
Dier has been an influential player in Tottenham's solid defence this season. His training as a centre-back means that, when he is not shielding the two centre-backs, he can slot in between them allowing the full backs to push forward. Additionally his natural tackling ability helps him stop opposition attacks before cleverly recycling the ball to an attacking player.
Good Feeling around the Club
In an interview with the Tottenham website Eric Dier praised the feeling between the fans, players and staff after games, even when results can be fustrating. After a 1-1 draw at Anfield, Dier admitted that he was "disappointed" but "when you go over to the fans at the end and they're singing and they're happy, at least you can be happy with the performance."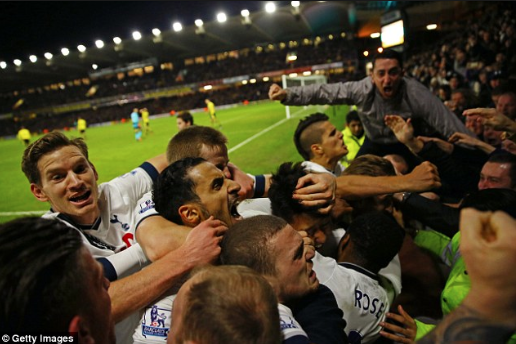 The defensive midfielder added that there is an understanding between the players and the fans, before adding that the "reaction from them was brilliant" following the conclusion of the last game, and that such a response "always gives added momentum".
Not giving up
The 22-year-old also praised his teammate's persistent attitude. Many of Tottenham's goals have come from resilient pressing of opponents to win back balls before breaking on the counter. This was seen again in the build up for their equaliser at Liverpool in which Christian Eriksen's chasing down of a lost cause on the left lead to a break, which produced the goal.
Dier believes that his teams attitude to "fight for every cause and try our best in every situation" reaps rewards. He added that "Every game is important from now till the end of the season and Manchester United this weekend is no different."