Tottenham Hotspur midfielder Dele Alli, speaking in an interview with Sky Sports, said that he is remaining with his head down despite all the recent praise from idols after a fantastic season so far with his club.
Alli says it's an honour to receive praise from Ferguson
Alli has been incredible so far for his club this season scoring seven goals and is only going to get better. The English midfielder's stunning form has lead to praise from former Manchester United manager Sir Alex Ferguson comparing Alli to a young Paul Gascoigne.
In response to the praise from Ferguson Alli said "for one of the greatest managers ever to compliment you" it's incredible to hear and it's a "huge honour". Alli though said that he doesn't want to "get carried away with things like that" as he just wants to continue his good form on the field and "keep working hard".
Alli says that the season so far has "been crazy, absolutely crazy for me" as he is part of something special at Spurs this season and he says he was always "quite confident" in his ability. The Englishman though being modest said "I didn't expect it to go well so quickly" as his rise has been really remarkable.
Alli says this season has been a dream come true
The English midfielder continued to say that this season has been "a dream come true" as things are going brilliantly for the whole Spurs team and he says it's a dream "I'm still waiting to be woken up". A dream that Alli shows no signs of waking up from as he looks to cement his place in the England squad for the Euro's this summer.
Alli made his debut back in November for his country and scored wonderful long range effort against France at Wembley. Alli has also started two of the last three games and looks a good bet for the Euros, but for now, until then he is concentrating on ending the season well with his club.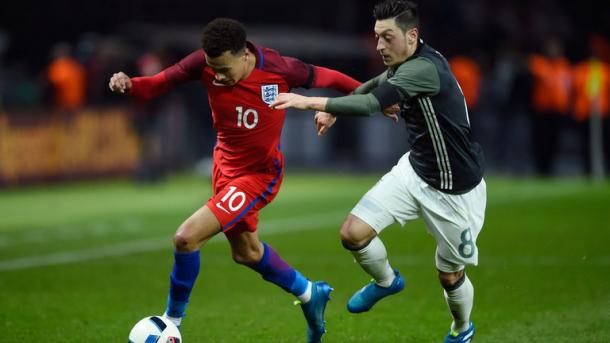 Alli hoping to be a part of the England squad at the Euros
Alli said "I've still got a lot to learn" and for now, he will not "get to carried away with myself" as that's the way to go about it as it will make him a better player. Alli continued to say that "it's important you stay professional" as that's what will take you far in your career as he looks to have a long one.
The Euros are just around the corner and Alli says he would "love to go [to Euro 16]" as it would just top of his great season and it "would be a dream come true". The youngster though says that he doesn't think his "place is concrete" as there are a lot of players trying to get into the team.