Tottenham Hotspur's 3-0 win over Louis van Gaal's Manchester United was close to exquisite. A fruitless power struggle persisted in the first half. Neither side attacked with fluidity, yet Spurs still could have conceivably been 2-0 up at the break had they taken their chances.
It was their defensive grit and discipline during the first hour of the game which was, in hindsight, so impressive. United seemed to attack only through Anthony Martial, yet he was so lively that he may have scored during the goalless period of just over an hour. Spurs kept him and United at bay through perfect defensive structure and positioning however.
Eventually the North London side found some attacking fluidity and in 6 minutes they changed what was a cagey affair to the spectator into what might be described as a thrashing.
For this Spurs have much to thank two players who have experienced resurgences this term and who, as a consequence, have reestablished themselves as central to Tottenham's fortunes.
Dembele's brawn shines through
While Moussa Dembele never fell into the category of being a "big-money flop", there was a general concensus at Tottenham Hotspur that until this season he had never lived up to his reputation which he'd accrued at Fulham.
And it was a fair judgement. It had seemed as though he'd lost the pace and physicality which had previously made defenders so fearful of the stocky Belgian. Several reasons were cited for his failings, mostly centred around his position on the pitch. Many called for him to be deployed further forward, others for him to be deployed deeper.
Arguably Mauricio Pochettino has struck gold by doing neither the latter nor the former. Dembele's free role in the middle of the park has led to him becoming part of the team's ever developping spine this year but more importantly to him rediscovering his confidence, to the extent where often he has looked unplayable.
So strong that players bounce off of him and yet so deft that he can ghost past players with a simple drop of the shoulder, it is him who puts the food on the plate of the Tottenham attackers. He is the one who calms the often frantic pace of the Premier League and there must be an argument for him being one of the best midfielders in the league when it comes to retaining possession under pressure.
Noticeably at the weekend, Manchester United players tried to harass Dembele yet found no reward as the Belgian used his impeccable body positioning to give them no chance of taking the ball off of him. It was a performance which embodied his return to form this season.
He is vital for Spurs and they undoubtedly look a worse team without him. He will relish the challenge of the UEFA Champions League next term following a vital summer, as his Belgium team look set to challenge fiercely for the European Championship.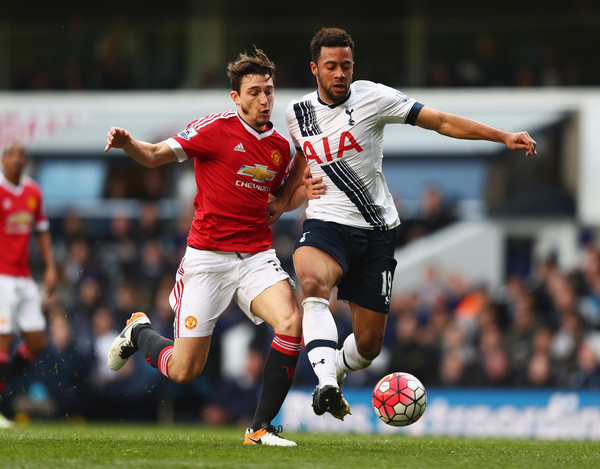 Eriksen's return to form evident in must-win for Spurs
Furthermore, it is worth crediting Christian Eriksen for his upturn in form. Always a favourite amongst Spurs fans thanks mainly due to his dead-ball exploits which played a role in propelling Spurs into the Capital One Cup final last term, it is fair to say Eriksen experienced a quieter period towards the end of the 2014/15 campaign and at the beginning of this current one. Furthermore, his impact in big games began to come into question as some deemed him prone to going unnoticed when Tottenham needed his ingenuity most.
Like Dembele, Eriksen's performance on Sunday dispelled any worries that had existed at the start of the season. He buzzed around the White Hart Lane turf endlessly, always looking to dispossess and set Tottenham moving forward.
He is almost the exact opposite to Dembele in build, and this shows on the pitch as he proves consistenly elusive - drifting rather than bursting past players as Dembele does. He is the beneficiary of the stability Dembele provides, as it makes the cute passes Eriksen executes possible. They work almost as an axis, and demonstrate the inter-dependence of Spurs' players.
Even when Spurs lacked their usual fluidity in the first hour or so, Eriksen was persistently probing and looked to have set up a certain opener with an exquisite dink before Erik Lamela headed over.
His delivery to Dele Alli was of similar quality, especially considering he took it first time on this weaker foot, and was deserving of a goal.
Spurs fans often take the Dane for granted as the Lilywhites never look as dangerous when he isn't in the side. Their previous concerns were valid, but, as the cliché goes, form is only temporary.
The league title may be out of Tottenham's reach, but they deserve enormous praise for the way they've developed this year – Saturday's performance epitomised why. They are mature beyond their years, and finally showing the ruthless trait Spurs fans have been crying out for for decades.
Spurs fans may pick out those who they deem to be most crucial to their fortunes currently, but the unusual truth is that they have a team who is genuinely dependent on each other. In the same way that globalisation has led to countries becoming increasingly economically interdependent, Spurs are no longer reliant on one or two players, they are reliant on each other performing, and this season, more often than not, they have.