It was today announced that Tottenham Hotspur midfielder Dele Alli is a nominee for this season's PFA Player's Young Player of the Season award.
The midfielder, who turned 20 on Monday, will be up against seasoned professionals such as Romelu Lukaku, and fellow Spur Harry Kane for the reknown award after exploding onto the Premier League scene.
Amazing breakthrough year for Alli
Alli joined the North London club last winter for £5million before finishing the season with MK Dons. Since joining up with the side this summer Alli has cemented a first team place in Spurs midfield and caught the attention of many other professionals, pundits and fans. One of which is England boss Roy Hodgson, who handed Alli his international debut against France in November.
Alli scored a sensational goal from 25-yards out on his debut and recently received a call up for international games against Germany and the Netherlands. The midfielder also looks to be a shoo-in for the upcoming European Championships. He currently has eight goals and 11 assist in all competitions this season.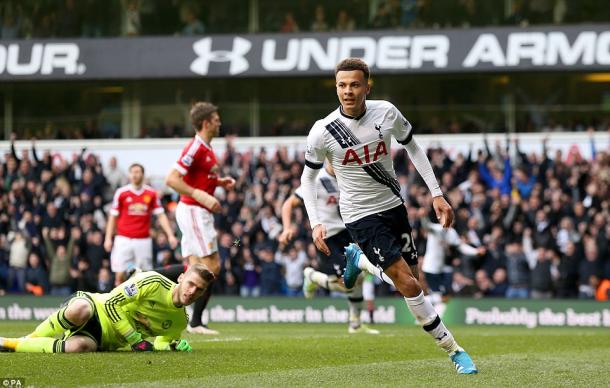 Alli has admitted on numerous occasions that he "didn't expect it to go this well", adding that the "At the start of the season I set myself a target to try to become a regular in the Under 21s and try to a get a few starts in the Premier League." In a more recent interview with Sky Sports, Alli has added that, "it has been crazy" as his "dream [has] come true" yet the midfielder is "still waiting to be woken up". Yet Alli also commented in the interview that his main aim is to "keep working hard" and not to "get carried away".
Alli's Pride
Speaking to the Tottenham website after finding out about his nomination Alli described it as a "great feeling" and that it is "credit not just to the team but to the gaffer and staff" as well after having had a "fantastic season" as a team. He continued to say that the nomination is a "real honour" as it is such a "huge award" and that winning it is "another bonus for this season."