Tottenham faced a cold Monday night in Stoke, as they looked to close the gap on Leicester City who slipped up on the weekend.
The Britania Stadium was left in utter silence as Tottenham ran riot over a helpless Stoke side who took a heavy 4-0 defeat.
In truth, it was lucky to have only been four as some easy chances were missed when looking back, with Harry Kane and Dele Alli grabbing braces in what was a serious statement to Claudio Ranieri and his team in the final games of the seeason.
Goalkeeper and Defence
Hugo Lloris: Wasn't tested at all, and didn't really touch the ball as much as he is accustomed to. The Frenchman was forced into action a few times but never looked troubled, producing an all-round solid performance from such little contribution. 7/10.
Kyle Walker: The Englishman had an outstanding game and has recently really proved why he should be picked over Kieran Trippier. Walker found himself in some areas of the field he is normally used to but wasn't able to capitalise on the opportunities at hand, seeming to look confused and unable to make the correct judgement when in so much space. However, his contribution going forward was very effective and he was also very sound in the defensive area of his game. Solid display. 7/10.
Toby Alderweireld: Touted as one of the best defenders in the league, he surely backed up the media's comments with another solid performance. He didn't step a foot wrong and being back alongside fellow Belgium teammate Jan Vertonghen, he looks even more solid and composed on the ball. 8/10.
Jan Vertonghen: Likewise with Alderweireld, didn't step out of line once. Bojan, Marko Arnutovic or Joselu didn't seem to trouble the centre-back partners and Vertonghen looked to be more comfortable as he eases himself back into the side after a lengthy injury. Certainly a massive boost to the side, despite Kevin Wimmer being more than adequate whilst filling in. 8/10.
Danny Rose: Greeted to the Britania Stadium with a chorus of boos, the defender didn't let it affect his performance. Like Walker, Rose has cemented his place over Ben Davies as the preferred left back in the side, proving critical to the Spurs attacks going forward. 8/10.
Midfield and Attack
Eric Dier: Dier had to do what he has done so well all season long, break up the build up the play that Stoke would try and create. At times, he didn't even have to do that due to the poor performance that Stoke City produced, but when needed, he was able to do so. Also giving the fullbacks the license to bomb forward, slotting into a back three while in possession. Wonderful performance. 8/10.
Mousa Dembele: The man with the highest dribble success rate in the league once again couldn't be tackled. Dembele showed brute strength and ability to dictate the midfield from a deep position. Picking up an assist for the first goal, the play seemed to always involve him. A vital player in that successful Spurs midfield and one that gets overshadowed by the main men inside that Tottenham Hotspur squad. Eventually replaced by Ryan Mason inside the last ten. 8/10.
Erik Lamela: Brilliant. The man's work ethic is second to none and unquestionably one of the best in the league. He didn't allow any Stoke player around him any time on the ball and looked very creative in and around the Stoke final third. The only downside to his performance tonight was that he seemed to panic or look fairly nervy come the first 30-minutes of the game. As he settled back down into the game, he seemed to grow in confidence, eventually being replaced by Heung-Min Son inside the last ten minutes. 8/10.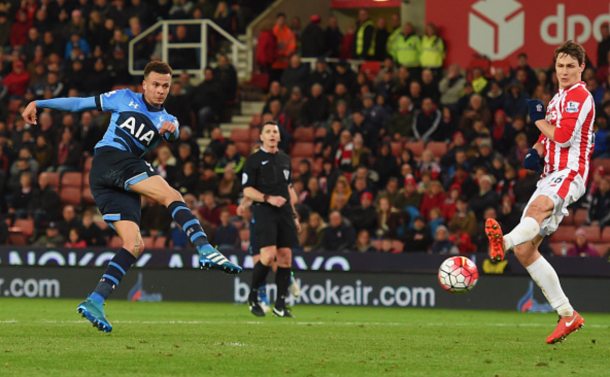 Dele Alli: His first game since turning 20, and it surely wasn't one to forget. Alli will definitely get some stick tomorrow for what can only be described as a horrific miss, as he rounded the keeper to hit the post with an open goal in front of him. On the bright side for the young Englishman, he did manage to score two goals, one being a stunningly caught volley from inside the box. The young man is something special, and the key to Tottenham's future. 9/10.
Christian Eriksen: Quiet in the first half, but whatever Mauricio Pochettino said in them fifteen minutes at halftime seemed to work. Eriksen came out and produced some of the best 45 minutes I've seen from him with a Spurs shirt on. Claiming both assists for both of Dele Alli's goals, he pulled all of the strings in that half. The little magician should be proud of his performance, despite missing a sitter in the first half. 9/10.
Harry Kane: World class. Indeed, Harry Kane strikes again. This time, a double strike, claiming two goals just boosting his golden boot campaign and making it even harder to catch him and Spurs. His first goal, which I'm sure eased a lot of Spurs fan's nerves early on, can only be described as exquisite, bending one into the far post from a distance. Harry Kane also claimed Man of the Match after the game. Once again, he proved he is something special. 9/10.
Substitutes
Ryan Mason: Along with the other subs, Mason came on inside the last ten-minute mark, replacing Mousa Dembele, where the game was wrapped up. Just allowing some key players to be rested. N/A.
Nacer Chadli: Along with the other subs, Nacer Chadli came on inside the last ten minutes where the game was finished with barely any effort going into them. Just allowing some key players to be rested, in this case replacing Dele Alli. N/A.
Heung-Min Son: Along with the other subs, Son came on inside the last ten-minute mark replacing Erik Lamela, where the game was wrapped up. Also allowing players to be taken off for resting. N/A.