Tottenham Hotspur looked all but set to keep the pressure on Leicester City with the home game against West Brom but things did not go to plan.
With a 1-0 lead going into half-time, Mauricio Pochettino's squad looked all but set to wrap up the points at White Hart Lane but the players never looked the same in the second half. West Brom looked hungry, as if they were the ones pushing for the title and Tottenham crumbled under the pressure.
Players like Jonas Olsson, Craig Dawson and Jonny Evans frustrated Harry Kane and his fellow team mates all night at both ends of the field.
It was a day for the defensive side of things, although a midfield man shone for Spurs.
Solid showing from the back-line
Hugo Lloris: 5 - With the French captain keeping two clean sheets in his last two games, no one was expecting anything different going into this game but in the 72nd minute, a headed goal from Dawson turned the game on its head. Lloris could be blamed for the West Brom goal after he ran off his line to try and catch the cross, but I do not think he was guilty. It was a contributing factor, it was a collective from all of the Tottenham players and cannot solely be blamed on the Tottenham captain.
Kyle Walker: 7 - Walker looked energetic yesterday, running up and down the right flank all game but ultimately, he did not look like much of a threat when it came to any type of key pass. A predominantly attacking game for the full back also came with its negatives, Spurs looked like they could be counter attacked at any moment, as they had two players in and around the half way line all game. I thought Walker gave everything he could and shouldn't be looked down upon because of this game.
Toby Alderweireld: 6 - The Belgian had a lot of possession for a centre-back yesterday, but Alderweireld always looked under control even when he had two West Brom players closing him down in his own penalty box. He looked very good defensively as he always does and did not give much away during the game, along with the partner at the back, Jan Vertonghen.
Jan Vertonghen: 6 - An identical rating to his fellow Belgian Alderweireld shows how alike they are when they play in defence together. They work as a pair and never leave each other's side, and neither of them could be blamed for the West Brom goal. Since slotting back into defence for Kevin Wimmer, Vertonghen has looked at home alongside Danny Rose and Alderweireld.
Danny Rose: 7 - Rose played more of a defensive role compared to his teammate Kyle Walker. Sessegnon was patrolling West Brom's right wing throughout the whole game and I think apart from one or two slip ups he carried out his set task very well. Frustration for Rose was the main theme throughout the game as he got the ball in positions he did not and probably should not have got it and when he was in acres of space, he did not recieve that crucial pass from a teammate.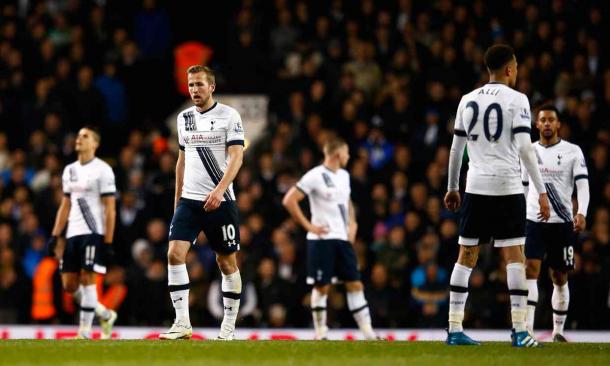 Dembele stars in the pivot
Eric Dier: 5. Dier had to come off due to an injury he picked up in the build up to West Brom goal. Tottenham fans hope its not too serious as he has been integral to Tottenham's system throughout the whole season, slotting back into defense to create a back three while the full backs either side of him would roam up the field.
Mousa Dembele: 8. My MOTM for Tottenham yesterday, as he controlled the midfield with his unrivalled strength and simply glided past players whenever he needed to. Dembele perfectly executed the role of turning defense into attack whenever he was called upon but he still held his own while executing his defensive duties on the night. Another great performance from Dembele, as he shows the pundits why he should have been in the PFA team of the year.
Lacklustre showing from attacking talent
Erik Lamela: 6. Lamela looked dangerous throughout the match but he didn't seem to find that killer pass he was waiting for. The one opportunity he got, hit the inside of the post and it unluckily did not go in. Another night of frustration for the young Argentinian as he looks to improve on his already growing talent, game by game.
Christian Eriksen: 7. The Danish midfielder looked like he would be Tottenham's catalyst throughout the whole night, and he proved worthy by creating the first goal on the night from a sublime free kick near the West Brom box. Eriksen came close, but most of his shots crept just wide or were not up to standard. Eriksen looked fast on the night and he was unlucky not to pick up any goals at White Hart Lane.
Dele Alli: 5. Many believe this was Alli's poorest performance in a Tottenham shirt and it showed when his anger took over and he appeared to punch West Brom's Yacob in the midrift after being barged in the back. He has been charged for this incidence and it is looking likely he will face a ban for his actions.
Harry Kane: 5. The Premier League's top goal scorer did not have much of an impact on the night, other than coming close in the first half. Kane was denied an opener by Boaz Myhill and he did not look sharp after that. He was controlled by West Brom's defense of four centre backs after Hugo Lloris and the rest of the Tottenham defense insisted on pumping the long ball up to him even though it looked increasing unlikely he was going to win a header against the experienced back four of West Brom.