Commenting on the heated affairs from Monday night's game in what has been come to know as the "Battle of the Bridge", Mauricio Pochettino admitted his Tottenham Hotspur players "crossed the line" but also added that it was a display of "passion" that is needed "to win titles and keep your position [for] a long time".
The match finished as a 2-2 draw, as Chelsea came from 2-0 down to earn a point and award Leicester City the title as Spurs crumbled in the second-half.
The hostile game saw nine Tottenham players receive yellow cards and numerous outbreaks of aggressive nature. Consequently both Chelsea and Tottenham were charged with failure to control their players by The FA and Tottenham's Mousa Dembele received a six-match ban after an incident with forward Diego Costa.
Aggression is needed for a title campaign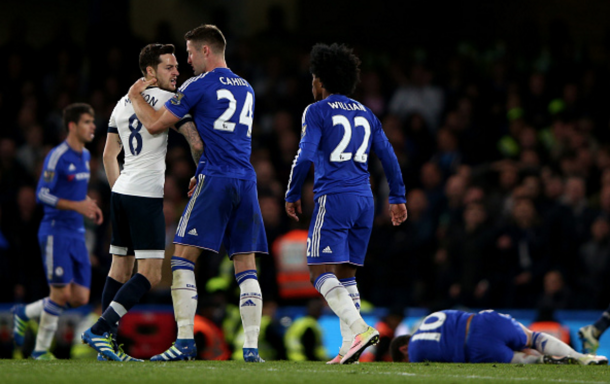 Tottenham manager, Pochettino believes that the clashes on the pitch "should stay on the pitch" and that they are in the nature of the game, but the influence of "cameras" can effect how things are perceived suggesting that players should be more careful. Y
et he further added that "people who play football know that sometimes situations" like those of Monday night can happen as players "agree in the theory" to stay calm but "to apply the theory is difficult" especially when launching a title campaign.
The Argentine also added that he "understands [his] players [and] staff" even if they did cross the line, yet he is still "very proud for [his] players" who "showed big character".
The former Espanyol defender also believed that this season has proved that Tottenham are no longer a soft club but wants them to focus their aggression in order to launch another title campaign next season.
He commented that he had previously heard people label the club as "soft" but believes that not they "show character" and are no loner "a nice team to play against". However this time around his players "showed too much passion" and recognised that "it's important to manage better our energy" next season.