Tottenham Hotspur ended their season on their lowest point yet after being outplayed by Newcastle United at St James' Park.
Tottenham were 2-0 down in the first half, as they lacked the drive they had shown all season. A further three goals were to go in but Tottenham's hopes of stealing second were ended by Daryl Janmaat's goal in the 86th minute; the final score ending 5-1.
Weakened Spurs team blown away by the Geordies
Tottenham were without Dele Alli while he was serving his third match of his three-game suspension, whereas Mousa Dembele was missing due to his six-game ban. Mauricio Pochettino had to improvise with Heung-Min Son and Ryan Mason for this fixture and they showed they were not up to the level of Alli and Dembele. Both Son and Mason were taken off at half time for academy graduates Tom Carroll and Josh Onomah, who looked more lively in the second half.
The Lilywhites started the day knowing that only a draw would seal their highest finish since 1963 but after events unfolded and they were 2-0 down, the team soon realised they need to step up a gear to seal 2nd in the premier league.
After some good build up play through Andros Townsend and Alexander Mitrovic, Tottenham found themselves 1-0 down after Georginio Wijnaldum calmly slotted past Lloris. Newcastle looked on top form from the start of the match but Tottenham did not kick into gear until they were 2-0 down after an inspired header from Mitrovic.
Following a rocket shot from Erik Lamela, the North Londoners found themselves back in the game but an horrendous dive from Moussa Sissoko saw a penalty wrongly awarded to Newcastle, which Wijnaldum smashed past Lloris to net his second of the game.
​ ​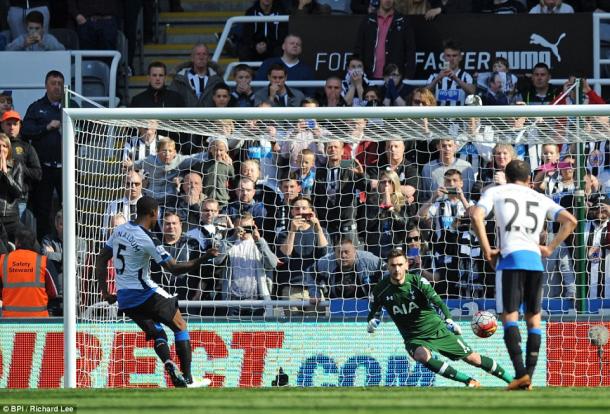 Kane crowned Premier League's top goal scorer
After Newcastle's third goal, the Spurs players had all but given up as they knew it was going to be a difficult task to overcome their deficit; the Geordies were throwing every player behind the ball at every chance they got. Harry Kane once again found it difficult without his partner in crime, Alli. However, even though he saw his team concede five goals on the day, he was crowned Premier League top scorer as both Sergio Aguero and Jamie Vardy failed to score to level themselves with the golden boot winner.
Tottenham have been renown this season for being ruthless in front of goal, with the emphatic wins over Stoke and Bournemouth, but the squad could not produce enough chances for their proven striker to finish. Christian Eriksen once again did not have a great game as he struggled to keep up to pace with the likes of Jack Colback and Cheick Tiote. Son did not look lively, as he lost possession most of the time he had been carrying the ball for his team.
The only positive that Tottenham can possibly take from the game was the improvement from Erik Lamela. With the only goal for Tottenham, he always looked like he could produce something special, it is just a shame he could not do it often enough for the Lilywhites.
Shots from distance were key to Tottenham's game plan in the first half, as the Newcastle defence looked rock solid right throughout the day. Shots from Kyle Walker and Toby Alderweireld in the first half were either high and wide or easily saved. At the other end of the field, Lloris was tested multiple times in the first half; with shots from Mitrovic and signs that Townsend was going to be lively all day.
Negative side of the game
In the 67th minute, Mitrovic was sent off for a bad tackle on Walker which was hailed a leg breaker by many pundits on the Sky Sports team. The Serbian had lost possession moments before and lashed out with a studs-showing tackle in the shin area near the touchline on Walker. Unsurprisingly, he was sent off.
Also, in the 72nd minute, it appeared that Sissoko took a tumble in the Spurs penalty box which fooled Anthony Taylor into giving Newcastle an undeserved penalty. It was another incident that added to the frustration of Tottenham fans, although it was a poor performance that allowed bitter rivals Arsenal to finish above them for the 21st time in the modern Premier League era.