Tottenham Hotspur midfielder Mousa Dembele has revealed that he isn't proud of his actions during Spurs' 2-2 draw with Chelsea in the closing weeks of of the Premier League season, nor the resulting suspension.
With his side embroiled in a passionate match against the Blues, from which they eventually conceded the title to Leicester City following a 2-0 lead, Dembele was caught on camera gouging at the eye of opponent Diego Costa.
Whilst it was by no means the only violent incident of the game, Tottenham picking up a record total of nine yellow cards in the 90 minutes, it was by far the most serious, as the match was led to be dubbed 'The Battle of the Bridge'.
Dembele disappointed in himself
Speaking about what happened to Sky Sports, the Belgian stated that "things happen", but his intention was "not to do something bad to him [Costa]".
However, he admitted "it's an emotional game", going on to say that "you react to things and now I have to learn from this", before stating that he's "not proud" of his actions, as it's "not my habit to be that emotional" whilst on the field.
The FA announced fairly shortly after the game that Dembele, who has never been sent off since moving to England, had been charged, and he was eventually given a six game ban. The first two of those games have been served, but it still means he'll miss the first four games of next season.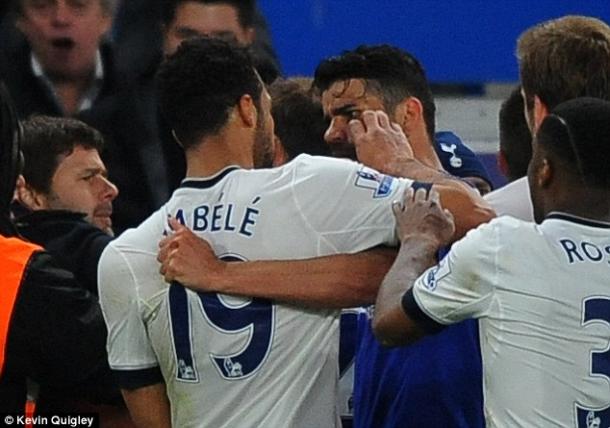 Midfielder unhappy at length of suspension
Asked for his thoughts on the suspension, Dembele explained that he understands the FA need to "leave a message", but that can't stop him from "being disappointed by the six game ban".
Speaking about the whole game itself, which somehow ended with Spurs still having 11 players on the pitch, Dembele said; "The fans saw our passion out there, sometimes a little too much".
Despite this, he was happy to "show our fans we wanted to win it", and proclaimed that he and his teammates must take their passion and "go better next year".