Predicting the future is very difficult. It often involves being wrong, despite basing a judgment on sound logic. But were Tottenham Hotspur fans wrong about Nabil Bentaleb following his first season under Mauricio Pochettino?
Many predicted a career as a world class central midfielder. Others envisaged difficulties for Spurs in keeping him at the club. Several even thought he may be a future Tottenham captain, such was the dedication he displayed on the pitch.
Season to forget
Yet the 2015/16 campaign saw all which had been previously achieved by the Algerian come crashing down. A precarious start to the season, during which he was culpable for the goal Spurs conceded on their opening day defeat at Old Trafford, was followed by a long term knee injury.
Failing to make an impression following his return to the Spurs starting line up in the FA Cup ensured Moussa Dembele and Eric Dier continued to deservedly start ahead of him. Further injury woe saw him undertake knee surgery in March, after which he has not appeared.
Putting it simply, one of Tottenham's brightest sparks had a second season to forget, making only 10 appearances in all competitions and leaving Spurs fans divided as to whether he has a future at White Hart Lane or not.
Bentaleb will feel at this time in his career, with his footballing future in the balance, that he needs first team football. Currently, it looks unlikely that that will be easy to come by at Tottenham Hotspur, with the aforementioned Dier and Dembele having had very impressive seasons in the engine room of Tottenham's midfield.
Yet with Dembele still having to serve four games of his six match suspension, there may be an opening for Bentaleb to force his way into contention, provided Spurs do not sign another central midfielder.
Set for pastures new?
Early indications following Bentaleb's most recent injury were that he was ready to quit the club, as he was no longer part of Mauricio Pochettino's plans. However, sources around the player most recently have said that he is happy at White Hart Lane and prepared to win his place back in the first eleven.
This begs the question as to whether Spurs would be better to cash in on the Algerian or to give him another chance to assert himself.
Were he to leave, it has been suggested that a return to France would be a likely option. In fact, Bentaleb may be attracted to the likes of OGC Nice, who having qualified, contrary to expectations, for the Europa League will be looking for players with experience of playing in that competition, something which Bentaleb has.
Furthermore, his style of play, that of short passing in attack and high intensity aggressive pressing in defence would be favourable to Claude Puel's side, who boasted the 7th highest pass accuracy in Europe's top five leagues last term.
Arguably, the biggest decision Bentaleb needs to make is what role in central midfield he want to play. He started at Spurs as a simplistic ball winning midfielder, throwing himself into tackles with unrestrained gusto, breaking up play in transition and getting the ball out of danger when needed.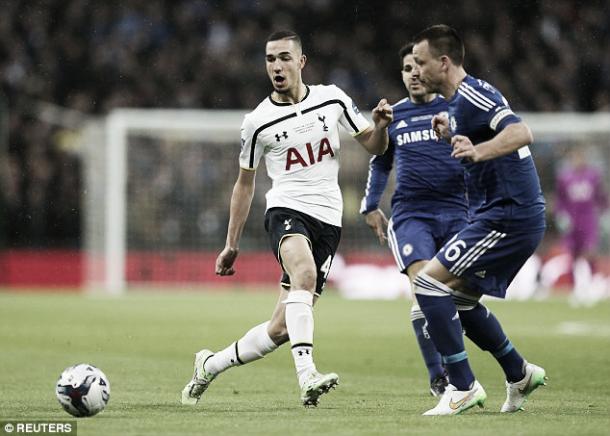 However, as he began to take more and more responsibility his role in the Spurs side developed into a more sophisticated regista role, in which he would anchor himself in front of the defence and try and dictate attacking play whenever Spurs were in possession. Bentaleb could do this competently, having good enough ball playing skills to move the ball through midfield.
Unfortunately, adopting this role led to Bentaleb's frailties being exposed. Too often his concentration lapsed, putting him under threat of losing possession, and although he was able to pass the ball competently, he lacked the vision to make passes which cut through oppositions, leading to Tottenham's build up play becoming stagnant and predictable in midfield.
Undeniable talent
Despite this Bentaleb's qualities must be recognised. He is tremendously athletic, is strong on the ball and is an excellent reader of the game. He dominates in transition where his physicality allows him to win the ball and move it forward into space with pace, and while Moussa Dembele's distribution from deep is marginally better than his, Eric Dier's isn't (although it is Dier's superior positioning which makes him a more effective defensive midfielder).
Pochettino is a strong believer in Bentaleb however, having put a lot of faith into him in his first season managing the North London club, and rewarding his fantastic season by giving the number 6 shirt to him, implying it was the Argentine's intention to make Bentaleb a linchpin once more.
At age 21, Nabil Bentaleb's future at Tottenham is in the balance, and so may be his professional career. He must make an impression at Sours once more, or move elsewhere, otherwise his career will stagnate. Moving into a role as a more dynamic box-to-box midfielder may help him do so, but first team football will be the key to ensuring the Algerian's talent doesn't go to waste.
I spoke to Spurs fan Chris Miller (@WindyCOYS), writer for FourFourTwo, to find out what he makes of Bentaleb's future.
Q&A with Chris Miller
Does Nabil Bentaleb's future lie at Tottenham Hotspur? If not, where might suit him?
I hope so. We cannot ignore the fact that last season saw him go backwards, for whatever reason (there have been many rumours about his entourage, his contract negotiations, his attitude). But in his breakthrough season he showed more than one might have expected from one so young, and the potential is there.
Should he leave, there would be no shortage of takers in the Premier League, and I'm sure a lot of European teams would be interested too; his ceiling is high.
Which role in central midfield suits him best?
Personally I would say he best suits the Dembele role, the 8. The player that doesn't have quite so much screening responsibility, and is more about shuttling the ball between the defensive third and attacking third. He's a good all-rounder, who has played a variety of positions (he even played left-back!), but now I'd like to see him focus on that particular one.
Could he eventually succeed Moussa Dembele?
Yes, I think so. Dembele will soon turn 29, and should have a few couple years left in him. But we must be aware that injuries have taken their toll, and he might not play at this level for more than 18-24 months. If Bentaleb can watch, learn, work hard, and focus, then hopefully the transition will work.
Does he suit Pochettino's philosophy?
Yes, I think so. He has the physicality to get up and down the pitch, he has a nice amount of versatility to his game, and is young and hungry enough to provide the drive. Does he have the concentration and will to learn? That's arguably the bit that's currently in question.
Should Spurs be looking to strengthen their midfield? If so with who?
Yes, absolutely. Ideally we need a player who can play alongside Dier or Dembele, but I don't know how many of those are about. Wanyama has been linked, and he's clearly one that Pochettino likes - plus he's PL-ready. I like Leverkusen's Christoph Kramer, and think he'd be a nice addition.