In a recent Spurs TV interview, Erik Lamela opened up about his troubled start at Tottenham.
The Argentine joined the club in the summer of 2013 as one of the seven signings bought with the Gareth Bale money.
In his first few seasons at the club, the winger was slated by fans, who believed that he was a waste of money, especially as he was the clubs most expensive player.
Four seasons on and Lamela has transformed as a player, becoming an important part in implementing Mauricio Pochettino's high pressing style of play.
Self-belief was key
Lamela admitted that his first season as at the club was "difficult" especially as he "was injured for a long time" but he believes that his self-belief got him through.
The winger commented that he "knew that [his] moment would arrive" at the club before adding that he was always "confident" in himself as he "trusted" his abilities and was "working hard every day".
The player's additional confidence shone in the interview, as it was conducted in English.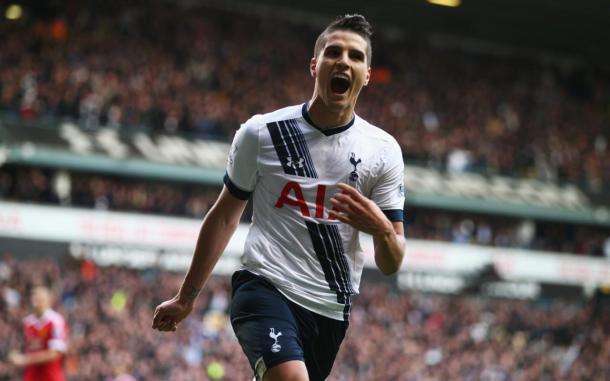 A transformed player
The winger has scored 11 goals in 44 appearances for the club in all competitions, this season but it has been his aggressive nature and high work rate on the wing that has caught most people's attention. The Argentine acknowledged this as a strength of his but also suggested that it is mainly down to the team's overall style of play.
He commented that, "We fight for everything for the team, we all want the same thing and that is to win." Lamela further spoke about the teams overall desire to "bring Tottenham up a level" as everyone "helped each other last season and all together we pushed in the same way".
The 24-year-old also believes that "this team likes to work" as they "worker so hard last season and this season we want to be ready", before adding that the trust of the manager has been "important" as he "knows that he trust all the team and players".