Unfortunately, that's all we've got time for today. I've been Oliver Emmerson, taking you through Juventus - Tottenham Hotspur in the International Champions Cup. Until next time, have a great day.
All over in Melbourne. A much improved performance from Spurs in the second half, as they got back into the game through a goal from Erik Lamela, but in the end they couldn't do enough to come back from the early Dybala and Bentatia goals.
Full-time: Juventus 2-1 Tottenham Hotspur
90+1: Close! Harrison set up by Lamela in the area, he keeps his strike low but Neto does well to push it wide.
90: Two minutes of added time as Tottenham press for an equaliser.
89: Aaaah that's a shame. We get all through the game without a yellow card, until young Lirola lets the excitement get the better of him a little, pulling needlessly on Wanyama's shirt.
86: Into the final few minutes of the game now, Spurs with all the ball now in a greatly improved second half for them, but they still trail 2-1.
80: Oooh, Lamela almost finds his second. Good work from Onomah in the box sees the ball break to the Argentine, whose shot stings the palms of Neto.
79: Ball off for Amos for Spurs, whilst Juventus bring on Coccolo for Sandro.
75: 15 minutes to go, can Tottenham find an equaliser? If the game finishes as a draw, we'll go to a penalty shoot-out.
67: That's what the Lilywhites needed. Wanyama pinches the ball in midfield, does the sensible thing and plays in Lamela, who puts the ball past Neto for 2-1.
GOAL! Spurs back in it, Lamela scores!
65: Just after Spurs, Juve make some more changes. Parodi and Vitale on for Asamoah and Pjanic.
63: Three more changes for Tottenham, Janssen, Trippier and Carroll off for Walkes, Harrison and Edwards.
56: Just wide from Lamela as the ball pops up to him on the edge of the area, the slightest of deflections carrying the ball wide for a corner.
53: Fantastic movement from Dybala, curling his run to get behind the Spurs defence and onto the end of Pjanic's pass, only for the Argentine to blaze his shot over.
50: Winks looks to release Onomah with a nice ball over the top, but it just evades the youngster's path and is taken by Neto.
47: Just to clarify those half-time changes. For Spurs; Yedlin, Lamela, Onomah, Winks on for Chadli, Miller, Son and Mason. For Juventus; Marrone and Cerri on for Pereyra and Benatia.
45: Back underway, the second half begins.
A difficult 45 minutes for Tottenham's inexperienced defence as they find themselves 2-0 down to the Italian giants, thanks to goals from Dybala and Benatia in the first 15 minutes.
Half-time: Juventus 2-0 Tottenham Hotspur
45: One minute of added time at the end of the first half. Asamoah on the overlap down the left, hitting a first time cross wide.
40: 18-year-old full-back Lirola has done well so far, he beats Miller in the penalty area there, before Carter-Vickers gets across quickly enough to block his cross out for a corner.
37: Another quick counter for Juventus as Pjanic and Dybala exchange passes, the latter eventually running it too far towards the byline on his weaker foot before Spurs nick the ball back.
33: Penalty shout for Spurs as Miller does well to wriggle in-between Lirola and Benatia before going down, the referee insisting that there wasn't enough contact.
29: Finally, Spurs get into the final third and trouble Juventus somewhat, Carroll looking to curl a ball in from the left, headed out for a corner before it gets to Janssen. Son heads wide from the resulting set-piece.
24: Tottenham looking a little better in possession now as they look to calm things down after those two quick goals, but they're still yet to get their attacking players involved in the game.
16: Another scare for the Lilywhites, Dybala cuts out Ball's backpass to Vorm, but his touch to take it around the 'keeper pushes the ball out of play.
15: Whilst a great save from Vorm kept Dybala from adding his second, Tottenham couldn't keep out the following corner. Swung in deep, Benatia nodded the ball back across the goal and into the top left hand corner. An inexperienced defence getting found out here.
GOAL! Juventus double their lead, Benatia!
14: More poor defending from Spurs allows Dybala to get in-behind Carter-Vickers down the left, with his half volley well tipped over by Vorm.
12: A couple of free-kick's for Juventus, who are in complete control now. Unfortunately for them, neither Pjanic or Dybala have got their eye in from a dead ball scenario yet.
6: Disappointment for Spurs early on as their youngsters make a of mistakes at the back, Jake Ball losing possession, allowing Juventus to pinch the ball and push Dybala through on goal, he shows his cool head to calmly send Vorm the wrong way.
GOAL! Dybala scores for Juventus!
4: Quite an end to end start, Victor Wanyama already demonstrating his talents in defensive midfield, winning the ball back from Asamoah as Juve's captain for the day was looking to counter-attack.
0: Kick-off, we're underway.
Just a few minutes until kick-off now, the players are out onto the pitch! Neither side in the strips they're known for, Spurs are in a new gold kit, whilst Juventus play in blue today.
Juventus have certainly got some big names out with the likes of Dybala, Hernanes and Pereyra. New signings Benatia and Pjanic both start, whilst Tottenham fans will be pleased to see new signings Wanyama and Janssen start.
Tottenham Hotspur XI: Vorm, Trippier, Ball, Carter-Vickers, Miller, Mason, Wanyama, Son, Carroll, Chadli, Janssen.
Juventus XI: Neto, Lirola, Benatia, Rugani, Alex Sandro, Lemina, Hernanes, Asamoah, Pjanic, Pereyra, Dybala.
We've got the team news in!
Although it's only pre-season, this game, and Friday's against Atletico Madrid, will give Spurs some good preparation for their Champions League campaign this year, with the Lilywhites back in Europe's premier club competition after a third placed finish in last season's Premier League.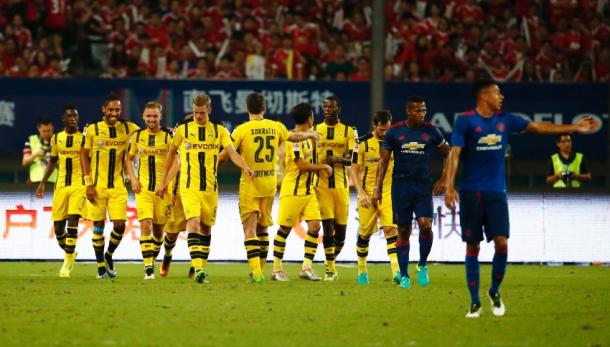 This pre-season tournament is held over four different continents, with three different competitions. So far, we've seen Leicester City beat Celtic on penalties and PSG defeat Inter Milan in the USA/Europe version, Borussia Dortmund beat Manchester United 4-1 in the Asian version, and the aforementioned Juventus - Melbourne game in the Australian version.
Another man we won't be seeing is Paul Pogba, still on holiday after reaching the final of Euro 2016 with France. Whether or not he'll ever play another game for Juventus is open to widespread speculation, with serious links to Manchester United and Real Madrid having developed in recent weeks. It appears that United is the more likely destination at the moment, for a world record fee.
It is something of a shame that we'll be missing some of Spurs' best players today, as Mauricio Pochettino decided to leave all those who made the knockout stages of Euro 2016 at home on an extended holiday after the tournament. He apologised to the Australian fans for doing so, but felt it was necessary for the likes of Hugo Lloris, Harry Kane and Dele Alli to stay at home. Fans will get to see new signings Vincent Janssen and Victor Wanyama though, as they were included in the touring party.
That game was played at the same venue as today's match, the Melbourne Cricket Ground. The ground has drawn huge crowds for football friendly games in recent years. Melbourne - Liverpool attracted a crowd of 95,000 in 2013, whilst last year 99,000 were in attendance for Manchester City - Real Madrid.
Juventus' season starts later than the Premier League does, meaning the Serie A champions are further behind than Spurs in their pre-season schedule, and have only played one friendly so far. That was in this competition, a 1-1 draw against Melbourne Victory on Sunday before they lost on penalties. Carlos Blanco opened the scoring for the Old Lady, before Jai Ingham equalised. The Australian side won 4-3 on penalties.
It's something of a relief for Spurs fans, who are yet to see their side play a pre-season friendly in front of fans, with all games so far contested behind closed doors. They've had a mixed bag in those games, all played at Hotspur Way away from public views. They started with a 3-0 win against Nottingham Forest, before slipping to a 1-0 defeat against Fulham. Next up, and most recently, was a 3-1 victory over Rotherham.
Good morning everyone, and welcome to our live minute-by-minute commentary of this morning's International Champions Cup match between Juventus and Tottenham Hotspur, contested in sunny Melbourne. Kick-off in the UK is set for 11am, but stick with us before then as we build up to what should be an exciting game.