Tottenham Hotspur enter their third season under Mauricio Pochettino's management this week, and they'll hope to make it another memorable one under their Argentine coach.
More progression in 15/16, with a tinge of disappointment
Last season was memorable for any Tottenham fan. The Lilywhites launched their first title charge for decades and secured their highest finish (3rd) in England's top league since 1990. Spurs' season started deceivingly well as they went 15 games unbeaten, however eight of the 15 ended in draws, all of which Spurs initially lead. This meant that they dropped a total of 16 points from those eight games, which consequently could have won Tottenham the league.
The run however did see some memorable results including a 4-1 win over Manchester City and West Ham, as well as a 5-1 win over Bournemouth. After a loss to Newcastle United at home in mid-December which ended their unbeaten run, Spurs started to gather momentum for what would eventually be their title charge.
The reality of their title hopes became apparent when they beat Manchester City 1-2 at the Etihad in mid February thanks to goals from Harry Kane and Christian Eriksen. Pochettino saw this, playing a weakened team as they exited the Europa League to Borussia Dortmund with a heavily rotated side.
However, just as hopes were at their highest for Spurs fans, they came crashing down as Spurs could only secure two points from the 12 available from their final four games. Leicester City won the title after Spurs dropped a two goal lead at Stamford Bridge in a feisty battle between the London rivals. Their season ended in massive disappointment as only a point away to relegated side Newcastle would have secured them second place, which they had occupied for a big portion of the season. Yet the Lilywhites were thrashed 5-1, allowing bitter-rivals Arsenal to overtake them.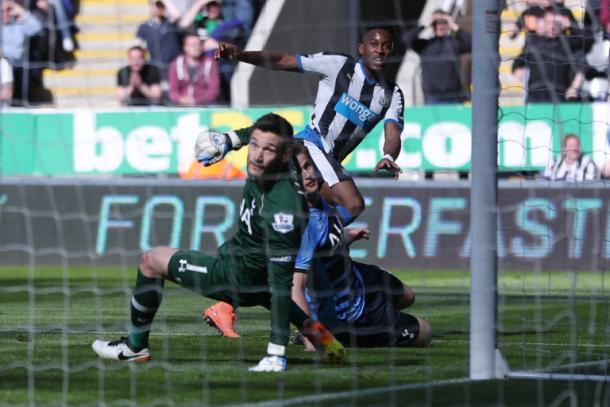 Will Pochettino stick with 4-2-3-1?
It is highly likely that Pochettino will stay with a 4-2-3-1 system as his main formation, as it worked so effectively for Spurs last campaign. However, with the addition of Vincent Janssen, Pochettino may revert to a 4-4-2, as seen in the second half in the 6-1 win against Inter Milan last week, when in need of an extra goal.
Pochettino will continue to implement his high tempo pressing system next season so much so that it is possible that it will only become more intense and constant as the club will look to build on last season and this was fundamental in their breaking down of teams. Based on Tottenham's pre-season games the club will be looking to improve their fluidity when attacking and making the best out of counter attack's, as was seen against Inter and the previous season. With the creativity of the attacking midfielder's supporting Kane, this could be key to breaking down the stronger defences in the league.
No drastic measures in the window
Spurs have had a great transfer window to date with two top additions in the form of Vincent Janssen and Victor Wanyama. The Lilywhites fell just short of the Premier a League title last season and it was crucial that the issues that arose during last season were addressed during the summer window.
Janssen is a quality buy and he will offer up great competition for Harry Kane who almost lead his side to glory last season. Janssen was the top goalscorer in the Eridivisie last season and was coveted by a few clubs but he wanted to come to Spurs'. The big striker has already got of the mark in pre-season showing that he can be a huge addition for next season.
Wanyama is the other big buy this summer and he is the kind of player that was also missing last season. To win a Premier League title it is crucial to have a dominant midfielder and Wanyama is that and with him being used to the Premier League he was the perfect player for the club. In terms of outgoings the club have once again kept all of their important players which is really important if the club want to do even better next season.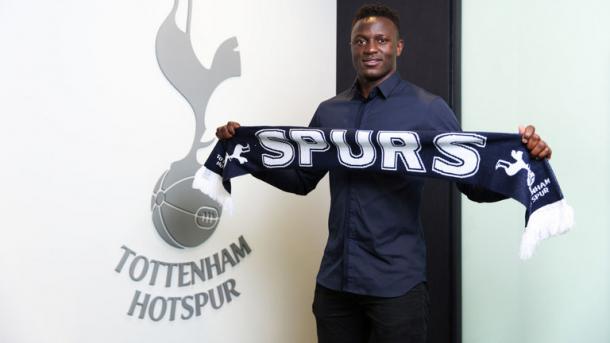 Pre-season peaks in final game
Pre-season was mixture of good and bad for Spurs' with a few brilliant performances and a couple of mixed performances.
Pochettino's side began with three behind closed door's friendlies - winning against Nottingham Forest and Rotherham United and losing 1-0 against Fulham.
The main tournament though that the side played in was the International Champions Cup in Australia where they came up against Juventus and Atletico Madrid. In the opener against Juventus, Spurs' lost 2-1 but improved as the game went on after a youthful side gave away two soft goals in the first half. In the second game against Atletico Madrid, the Lilywhites were very unlucky to lose the game 1-0 with a number of chances being created but not scored.
To round off pre-season, Spurs's came up against Inter Milan in Norway and this time round they showed their true class. Pochettino's side destroyed Inter 6-1 with the team being ruthless in front of goal. The result now gives the team confidence ahead of the opener against Everton next weekend in the Premier League next weekend.
Which Lilywhites should star?
Harry Kane: Throughout the 2015/16 campaign, Tottenham clearly had one vocal point in the team, Harry Kane. Do not expect much to change this season as the English striker has already scored two goals in only the one pre-season friendly he has played. Kane beat many outstanding strikers such as Sergio Aguero and Jamie Vardy to the Golden Boot last season, scoring as staggering 25 goals in just the Premier League. Many believe this will propel the striker to a whole new level as his confidence grows with every goal he scores. During the 2015/16 season, it would not be uncommon for Kane to 'burn out' during games as he has played every Premier League game for the Lillywhites in the competition since making his debut in the early stages of the 2014/15 season. However, during the summer Mauricio Pochettino has acquired the talents of young Dutch striker Vincent Janssen. This new signing will undoubtedly help Kane as he has not got all of the pressure upon his shoulders to score each and every goal for Tottenham.
Erik Lamela: It is true that the Argentinian winger did not have the greatest of experiences during his first season at Tottenham Hotspur but since Mauricio Pochettino has been as appointed head coach, the ex-Roma winger has just been improving and improving. Lamela scored a total of 11 goals last season, with five of them coming in the domestic league. This was big improvement on his tally during the 2014/15 season, where he scored five goals overall and only two in the Premier League. The winger is not only in the team for goals, but also assists. Most notably would be the assist for Christian Eriksen away at the Etihad, the assist for Toby Alderweireld in the North London Derby and once again for Alderweireld during Spurs' 3-0 rout of Manchester United. Lamela is still only 24 and under the wing of fellow Argentinian Pochettino, the Tottenham faithful will be expecting great things of him and the whole team this season.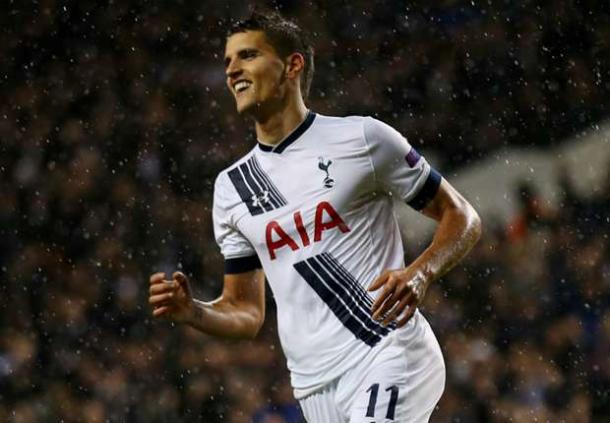 Toby Alderweireld: Many pundits and players alike believed the Belgian centre back was Tottenham's most crucial player last season, and it is easy to understand why. Alderweireld popped up with four goals last season, all in big games involving either fellow title challengers or local rivals. The 27 year old defender scored against Manchester City, West Ham United, Arsenal and Manchester United, and all of them goals bar one helped Spurs secure the victory. Before the signing of Alderweireld, Tottenham looked shaky in defence, conceding goals to sloppy errors and generally not doing the job right. But since the acquisition of the defender from Atletico Madrid, Tottenham have become one of the strongest defensive sides in the Premier League. Alderweireld received the Tottenham Hotspur player of the season and was awarded a place in the TOTS, so the expectations are high for the defender but many are sure he will be able to reproduce some of the magic he did last season.
Where are Spurs strong, and where are they weak?
Although you have the obvious attacking qualities of the aforementioned Kane, Janssen, Alli, Lamela and Eriksen, it's in defence where Spurs really stand out from the rest.
Many Premier League teams excel going forward, but the quality of defence's in England aren't what they were 10 years ago, and give Tottenham a major advantage over other teams.
They conceded just 35 league goals last season, averaging less than one a game - the best record in the division. This will only improve if they can get the two centre-back's fit for the whole campaign, whilst they've added one of the best defensive midfielder's in the league in Victor Wanyama, which will only imrpove Spurs more at the back.
It's hard to see any obvious weaknesses in the squad, the strength in depth seems to be very good on the whole, the best we've seen at the club for years. Spurs have been crying out for a striker to take the load off of Harry Kane, and you'd expect Vincent Janssen to do just that - whilst Victor Wanyama is a great addition, adding strength in depth in the middle of the park, even if Nabil Bentaleb leaves the club. Two goalkeepers, two left-backs and two right backs, all top end Premier League standard at least highlights the quality available defensively - a fourth top quality centre back would be a luxury. Tottenham have plenty of talent in forward areas, but a slight lack in depth, especially if Nacer Chadli leaves. In terms of signings, it's time to be realistic. A Champions League quality wide man would be good, but Spurs don't desperately need to go all out and spend over the odds for one, likewise with a central defender.
What about the youngsters?
Josh Onomah and Harry Winks are the two youngsters that are looking to break through this season. As stated, there's a slight lack of depth in the forward areas. Say Christian Eriksen, for example, picks up an injury, Josh Onomah may not be too far away from a start - and you'd fancy him to pick up a few starts in domestic cups. Harry Winks will have a massive amount of competition, but Mauricio Pochettino, as we know, is very forward thinking in terms of youngsters, so expect Winks to be rewarded for impressive friendly performances.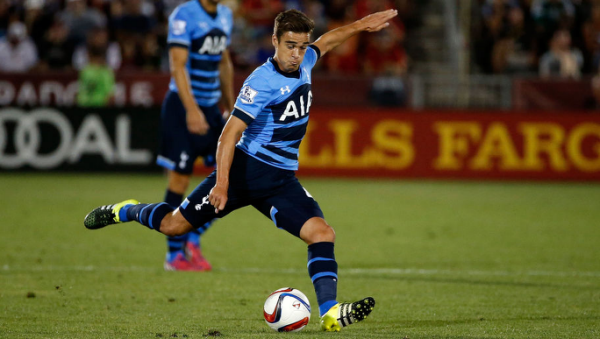 17-year-old Marcus Edwards is a fantastic youngster, but not likely to make an impression on the first team this season, same goes for youth captain Will Miller, who impressed at left-back against Juventus.
Predicted finish - 4th
Spurs have enough about them to once again ease into the Champions League places, but expect a title challenge to be given up in the hunt of some silverware.