As the first games of the new Premier League season rush towards us, Tottenham Hotspur manager Mauricio Pochettino has looked back to his end of last season in order to gain momentum to move forward.
Speaking before his teams clash against Everton on Saturday, the Argentine expressed his desire to "compete better and achieve another level" than last season and that the teams mentality, preperation and new additions will be key to this.
Confidence ahead of the new season
Pochettino expressed the confidence that he and his squad have coming into the new season, despite the end to their previous campaign. When asked whether the team was ready for the start of the season he commented that he is "very happy with my players' behaviour" including the ones "who arrived late that were involved in the Euros" as it's now "about delivering out energy in the way that we play".
The Argentine also revealed that the after the Australia tour, when the whole squad was back together they had "a lot of meetings to talk through different things" including the end of last season, which saw Tottenham loose the title to Leicester City before finishing the season with a 5-1 defeat to Newcastle. Pochettino commented that, "at the end of the season we all felt disappointed in the way that we finished the Premier League". However he believes that the team must now "show that we are clever" and "improve on our mistakes".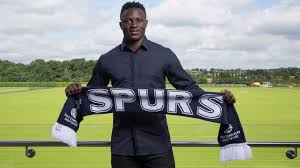 Praise for new signings Wanyama and Janssen
So far this transfer window Tottenham have only signed two players in the form of Victor Wanyama and Vincent Janssen and Pochettino was full of praise for his new players. The manager picked up on Wanyama's "good quality with the ball" as well as his strength. Speaking about Janssen Pochettino added that "he is still very young" but is a "different player to Harry Kane so it's very good to have him in the squad".
Pochettino alluded to the idea of Janssen and Harry Kane forming a striking partnership and that this is a "very good option" to have. He commented that while "there has not been too much opportunity to see them play together in the friendly games" it is possible that the two "can play together".