Tottenham Hotspur began the new Premier League season with a hard-fought 1-1 draw away at Goodison Park.
Ross Barkley opened the scoring for Everton after five minutes through a set piece, and Erik Lamela then headed home the equaliser just before the hour mark.
Tottenham manager Mauricio Pochettino believes that while the first game of the season is "always difficult", his team could have won the game in the second half, despite starting poorly.
A game of two halves
Tottenham's opening game of the season didn't start as brightly as one would have hoped as they conceded within the first five minutes. Spurs manager, Pochettino believes that his lead to Everton becoming "very motivated" hence gaining momentum and dominating a lot of the first half, with Spurs being rather slow and lacking any rhythm. Pochettino was quick to point this out commenting that, "the first half was difficult" for the team and they "did not play well".
However in the second half Spurs started to gather their own momentum as they "tried to correct the problems [from] the first half", so much so that their manager believes they "could have won it" based purely on that half. Spurs began to play with a higher tempo and pressure Everton more. The Argentine went onto praise new signing Vincent Janssen, who had a great debut, adding that having "another striker" made the team feel more "comfortable" as he added that "Janssen brought good energy" to the game.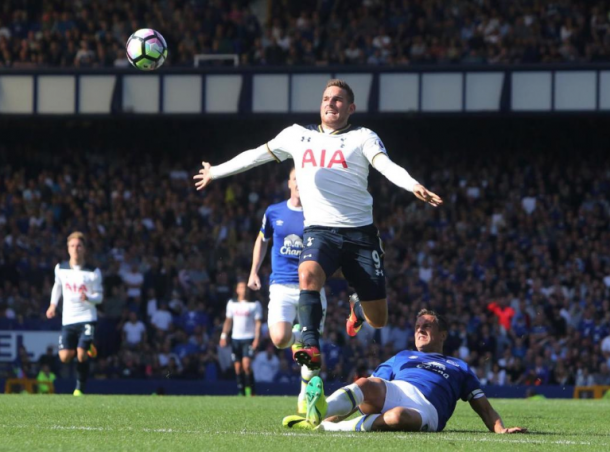 Lloris' injury
The Tottenham captain was substituted off after just 35 minutes on the pitch, to the confusion of many viewers. Hugo Lloris did not clash with another player and was not active in the game when the substitution took place and so for many ruled out an injury, yet despite conceding a goal, the 'keeper had been playing well, adding to the confusion of the substitution.
Pochettino however, confirmed after the game that "Lloris has a hamstring injury" which will be "assessed tomorrow to see what happens". An early substitution can always rattle a team and Pochettino believes that this had "a big impact on [Spurs]" in the first half.